M a r k e t N e w s
NIC Bank Have Inked A Deal with Toyotsu Auto Kenya Limited for Used Cars
Posted on : Tuesday, 17th September 2019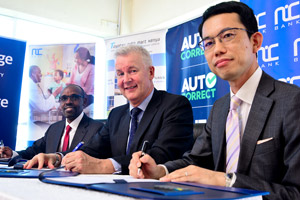 One of the largest used Japanese cars dealers in Kenya to finance and facilitate Kenyans to purchase second-hand vehicles from Japan.
The partnership will guarantee toyotsu customers up to 90% financing, 60 months repayment period and two months warranty for vehicles that meet the warranty criteria with an option to extend to one year at a small fee.
Speaking at the signing ceremony of the financial deal, nic bank executive director Alan Dodd stated that majority of Kenyans depends on import of second-hand vehicles and therefore the partnership was timely and signed to help customers purchase quality second-hand vehicles at affordable prices through a secure and transparent agent.
"many people in this market depend on the second-hand vehicle market to own a car. With this partnership, we seek to actualize the dreams of many Kenyans wishing to own a vehicle either for personal use or business activities at an affordable arrangement. In addition, this presents yet another opportunity for us to cement our position as the leading bank in asset finance in the country." He stated.
Dodd further added that the financing deal is open to both NIC bank customers and non- customers wishing to import vehicles and looking to be financed by the bank.
On his part, toyotsu auto mart Kenya limited managing director, Mr. Yoichi hashimoto said, that he was excited to be partnering with nic bank and that the partnership will go a long way in easing the financial load on their customers.
"Our partnership with nic bank is absolutely another seal of approval for toyotsu auto mart power within this trade to meet the local market's needs on used vehicles. Over this partnership, we can assure all our customers of efficiency and reliability in handling all the complex stages of purchasing a pre-owned vehicle through a transparent process and assured after sales support" he stated.
The toyotsu partnership comes hot on the heels of nic group (bank and insurance) and heritage insurance agreement to offer their customers a first of its kind telematics motor policy that rewards good drivers. The strategic partnership between nic bank through their subsidiary nic insurance agents is poised to avail customers a raft of benefits including; discounts on insurance premium, rewards for safe driving, simplified claims processing premium cash back for safe drivers hence reduced insurance cost based on feedback on the customers driving behavior through a mobile app, loyalty program with discounts at various outlets among others.
On nic, toyotsu partnership, the vehicle purchase will be managed fully by toyotsu auto mart Kenya who has generally 400 vehicles in stock at any given time and upon request further importation on behalf of clients with special specifications.
Source : www.afnzke.co