M a r k e t N e w s
Zimbabwe And Tanzania Are Working Towards Cementing Their Relations
Posted on : Thursday, 12th September 2019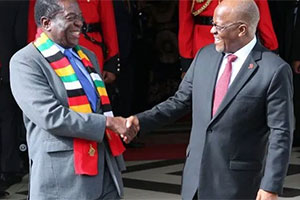 Zimbabwe and Tanzania took a giant step towards upgrading their relations with top officials between the two countries composing various economic agreements at the 8th session of the Joint Permanent Commission on Cooperation (JPCC) which opened in July 2019.
A three day JPCC was started with recommendations being tabled in preparation for the ministerial meeting condemned for focusing on areas where Zimbabwe and Tanzania can further deepen cooperation.
Economic diplomacy has been described as key towards the achievement of vision 2030, with the plan to tie economic deals being high on the agenda.
Ambassador James Manzou, the Permanent Secretary for Foreign Affairs and International Trade, noted that a number of memoranda of understanding (MOUs) are ready for signing during the 8th session of the JPCC.
Ambassador Manzou further said that, one of these is the MOU on economic, industry and trade cooperation whose execution will allow us to work more closely in order to boost economic cooperation through promoting bilateral trade between our two countries.
Another is the MOU in the field of agriculture which will provide a legal framework for the already ongoing cooperation between our two countries in this field.
The meeting comes on the backdrop of a successful visit to Zimbabwe by Tanzanian President John Magufuli in May, where together with his counterpart President Emmerson Mnangagwa, the two leaders pledged to transforming the existing historical and political relations towards stronger bilateral relations.
Ambassador Ramadhan Mwinyi, the visiting Tanzanian Deputy Permanent Secretary for Foreign Affairs and East African Cooperation, said the 7th session of the JPCC was held in 1998, adding that this is a reactivation of the framework of cooperation between the two countries.
He further continued, "now that we have achieved political independence, we need to work together towards the alleviation of poverty and economic liberation for our people. To bind on bilateral relations the two countries signed in 1982, this framework is setting the tone in the areas of industry and trade and investment, defence and security, education , agriculture, healthcare and mining."
Source : newzmart