M a r k e t N e w s
Ethiopia to construct 5 stadia in Addis Ababa
Posted on : Wednesday, 11th September 2019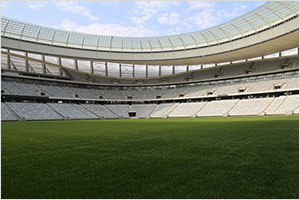 Ethiopia plans to construct 5 stadia in Addis Ababa to add on the two existing ones – Yidnekachew Tessema and Abebe Bikila stadia.
Out of the five, four are zonal stadia and will be constructed in the districts of Yeka, Nifas Silk Lafto, Bole and Gullele. The zonal stadia will cover an area of 40,000sqm, 70,000sqm and 110,000sqm respectively and each of the have a carrying capacity of 30,000, whereas the plot for Gullele is not yet secured.
Despite the effort being taken by the Addis Ababa City Youth & Sports Bureau – fitting the zonal stadiums to space availed by the districts, a research carried out by the Ministry of Urban Development & Housing, indicates that a standard zonal stadium should sit on 113,080sqm, with additional space required for parking and other purposes.
The Bureau's top priority since its establishment in 2015 following the restructuring of the new Ministry of Sports & Youth, has been securing the land. The new office has identified and agreed on the location of plots in the Bole, Yeka and Gullele districts in its six month lifespan.
The Bole location will be next to Balderas, while the ones in Gullele and Yeka will be constructed on plots near Kechene Medhanealem and Ferensay Legasion near the French Embassy.
The process of acquiring the land is well-defined; in Nifas Silk Lafto, it called for relocation of 54 government-owned entities and 24 private houses. The site in Bole is at the stage where contractors have been invited to bid for the work and 20 companies have shown interest..
Sources close to the case, however, have attributed the delay in budget shortage and lack of feasibility studies carried out before design work proceeds. The deputy head of the bureau does has confirmed the situation.
In recent reports released by the association of contractors, the construction industry of the country has also singled out lack of feasibility studies in the construction designing stage as a source of corruption and low quality outputs.
The fifth project, Akaki-Kality Stadium designed by Yohannes Abay consultancy has a carrying capacity of 60,000; two times that of the zonal stadiums. This will be the biggest in the City upon completion a status that is held by the over seven decades old Yidnekachew Tessema Stadium a.k.a. Addis Ababa Stadium a carrying capacity of 35,000 only.
Source : constructionreviewonline.com