M a r k e t N e w s
Prime Minister Shinzo Abe Renewed Japan's Pledge To Boost Investment In Africa
Posted on : Friday, 6th September 2019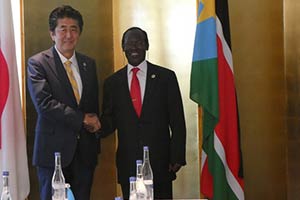 Abe pledges to boost investment in Africa from the country's private sector to more than $20 billion over the next three years, in the hope of facilitating the giant continent's development.
Abe's pledge meant that the government would encourage greater investment from the private sector with the aim of surpassing the previous three-year total, although he did come up with a specific numerical target.
Abe told African leaders who gathered for the Tokyo International Conference on African Development, "we will do whatever it takes to assist the advancement of Japanese companies into Africa."
Abe said Japan has long emphasized human resource development in Africa, adding, "We are in an era in which the challenges Africa faces will be resolved through science, technology, and innovation."
A total of $20.6 billion was invested in Africa from the Japanese private sector between 2016 and 2018, according to the Foreign Ministry.
Egyptian President Abdel Fattah el-Sisi, who co-chairs the conference along with Abe, said, "On behalf of Africa, I'll be calling upon the world institutions and multinational companies to invest in our continent."
Japanese companies had nearly 800 offices in Africa in 2017, up around 50 percent from 10 years ago, according to the Japan External Trade Organization.
As part of Japan's efforts to promote universal health coverage, Abe also promised to make basic medical care accessible to an additional 3 million people in the continent.
To that end, Abe also proposed a set of human resource development programs for Africa, including training 3,000 people in Japan over six years, who can contribute to the promotion of business between Japan and the continent.
Source : newzmart