M a r k e t N e w s
Tanzania SGR project's final phase to be financed by China
Posted on : Wednesday, 10th July 2019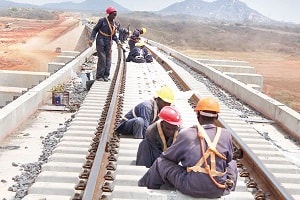 Foreign Affairs Minister Mr Palamagamba Kabudi declared that Tanzania's Standard Gauge Railway (SGR) project is going to receive fund from China. He added that the Government of China wanted to support the SGR at the later stage of the project and currently evaluating the project before it engages in further talks.
Exim Bank of China proposed its intention to support the SGR in the initial stages, but the proposal was rejected based on Turkish-Portuguese consortium decision. After the failure of this deal, Tanzania Government announces that it's going to fund the project of their own. The first two phases of the project namely Dar es Salaam-Morogoro and Morogoro-Makutupora covering 726km went well and, it cost around USD 2.5 billion.
This mega SGR project stretches around 1457km from Dar es Salaam to western Tanzania is one of the big projects by President John Magufuli's government. Tanzania's government has a railway budget of USD 7.5 billion with the 5 years completion timeline. The first phase of the project is near completion, and the government is trying to source funding for the completion of the remaining phase, which stretches from Makutupora to the Lake Victoria zone covering 731km.
Once the project completed, it's expected that the train would reach a top speed of 160 km per hour in operation. Moreover, Tanzania would be the 3rd country to use modern SGR after Kenya and Ethiopia, who also took the help of china for its construction. As a matter of fact, the government of Tanzania also established a flash butt welding in Soga for the SGR project.
Source : Bizmart