M a r k e t N e w s
WOODBOIS SHIFTING ITS FOCUS TO AFRICA AFTER ENJOYING A RECORD IN THE FIRST QUARTER
Posted on : Thursday, 2nd May 2019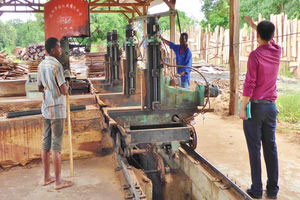 The forestry and timber trading company that is focused on Africa shipped an all-time quarterly high of 114 containers of timber and veneer during the three months ended on 31 March. That translated into record revenue of USD4.5millon for the period, a third higher than the same quarter of 2018 (Q1 18: USD 3.4millon). Lombard Odier subscription Woodbois raises £960k.
As the year progresses the growth is expected to pick up, in Gabon in the third quarter with new kilns scheduled to be installed followed by a new line of sawmilling equipment which should become operational before year end.
As Woodbois won't have to outsource this to third parties, while the new sawmill will increases production and enhance recovery levels the new kilns will boost annual profits by USD 700,000. It has been a busy few months for the company, which sold off its agriculture business in Tanzania and acquired the remaining 25% stake in Montara Continental.
Away from the operations. That was part of a move to double-down on the timber trading and production arm of the business, which bosses thought would help attract new investors and trade finance partners.That turned out to be the case, with 1798 Volantis Fund, Lombard Odier Asset Management's small cap team, which subscribed for US$6.5millon (£5millon) worth of shares and committed to provide a USD5millon loan.
The first quarterly presentation to be delivered under the Woodbois banner and with great strides already made in 2019, it is one that I've greatly looked forward to issuing," said The chief executive Paul Dolan."Having bought out minority interests and restructured and completed the sale of our agriculture business in Tanzania, your management team now has the comparative luxury of focusing exclusively on the development of market-leading timber production and trading businesses.
Woodbois that was formerly known as Obtala has also amended an agreement relating to the sale of its Tanzanian agricultural business. has raised around £960,000 from its institutional investor, Lombard Odier, The forestry and timber firm said Lombard had subscribed for 16millon new shares at a price of 6p each, a 12% discount to its close price, taking its stake in Woodbois to 25.01%.
Between June 2011 and September 2018. Africa Resource Investment Ltd (ARI) was solely owned by Patrick Green who was an employee of Obtala He was most recently the company's head of forestry for Mozambique.
Source : Bizmart