M a r k e t N e w s
Kenya and Uganda agreed to open more border points linking the two East African countries
Posted on : Monday, 1st April 2019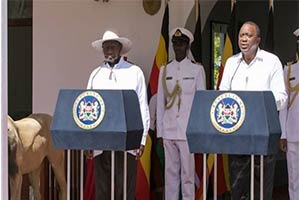 President Uhuru Kenyatta and his Ugandan counterpart Yoweri Museveni have agreed to expand border points to improve trade. President Kenyatta and Museveni said, "opening more border points will improve trade ties between Kenyan and Uganda and help to open more border points connecting the two East African countries."

"The free movement of people and goods along the border points will also decrease incidences of smuggling of contrabands", said Museveni.

"On free movement of people, we have agreed on more border crossing point. I know some of these boarder points, Malaba and Busia. But we need to have more official crossing points and I appeal to East Africans to use these legal entry points," said Museveni.

President Kenyatta said the two neighbors have have firmly determined to explore natural resources in border sections sustainably.

President Kenyatta, said, "The issue of Migingo is indeed one of the matters that we discussed. We have agreed to establish a formal border commission to look at the issue, not only of Migingo but the entire region and boundaries."

Other issues that were discussed at length was the ongoing construction of the Standard Gauge Railway connecting Mombasa and Uganda Capital City, Kampala, and the export and import trade via the port of Mombasa.

Other issues which Kenyatta and Museveni discussed is the petroleum pipeline from Mombasa to Kisumu.

On the issue of regional security, the two head of states, agreed to talk to Somalia to control the warnings of terrorism.

The two countries have also agreed to grow and develop the Lake Victoria trade together.
Source : newzmart