M a r k e t N e w s
An LED lighting revolution is underway in Rwanda
Posted on : Wednesday, 10th April 2019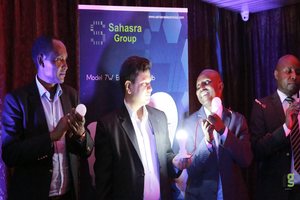 The rapidly growing urbanization in Rwanda is characterized by increasing street lighting all across different cities and its roads, this puts pressure on the city authorities because it consumes large amount of energy.Three firm synergy has come together in order to reduce energy consumption because of street lighting by introducing an intelligent system that is aiming at reducing energy consumption.
The three firms are. Inmarsat, this is a satellite telecommunications company. Sahasra, a LED lights production company based in Kigali; and Cimcon an American company who specializes in the production of sensors, they have set up concept proof in the Gasabo District at the Kano go Roundabout. Among other goals the partnership has set out to install smart lighting system aiming at reducing wastage of energy and to improve effiency. Based on the internet of Things based-solutions on a digital network of sensors that are connected gathering data and then relaying it to the control centre this is what the system is based on. Thus the smart lighting can determine the hours of the night when there is the need for bright street lights and the hours when there is little-to no traffic thus very little need for lighting and hence saving power. A system has been found which reduces the wastage of electric energy significantly and a number of other benefits said Suresh Negi, The Managing Director of Sahasra.
Sahasra group is a 100%Subsidary of India head quartered for Sahasra Electronics (Rwanda) PVT. LTD (SERPL).
With diversified manufacturing interests in Electronic Products, Energy saving and eco friendly LED lighting and Solar products and solutions as well as skill Development activities is Sahasra. LED Lighting will be one of the key strategic areas fueling its growth as a part of their '20-20vision'. In the East African region of the African Continent the Group has invested 3$M at its state of art manufacturing facility in Kigali Prime Economic Zone, Rwanda.
Making the country energy efficient and self- sufficient besides other economic benefits of helping with import substitution, this strategic investment in Rwanda, as called out by Rwanda Development Board (RDB) is helping Rwanda transform its energy landscape and benefitting the people of Rwanda by creating jobs. And other economic benefits of helping import substitution, generating exports giving impetus to locally sourced Rwandan products.
Commencing business in May 2012 as a small trading entity, has changed gears and is grown today into one of the most successful manufacturing entities in Kigali, Rwanda. Located at Muhima close to the city center and main business districts of Kigali the company has its corporate office cum showroom.
It is a high-tech facility unit capable of manufacturing LED lights and other electronic lighting products; Sahasra is planning to get these out in the next few months. The current production consists of LED products as street lights, floodlights, bay lights, panels lights, down lights, canopy lights tube lights, spot lights and LED bulbs. The company is planning to introduce a few other products such as solar LED kits for rural areas emergency bulbs, USB devices and other smart and high-tech products within the next six months to a year.
Per month the company's current manufacturing capacity is 100,000 units of different products. This can be scaled to 300,000 units in the existing facility, plus there is space to construct and increase manufacturing capacity to a million units a month.
Source : Bizmart