M a r k e t N e w s
Leaders of East Africa inaugurate Chinese-built projects in the region
Posted on : Friday, 28th December 2018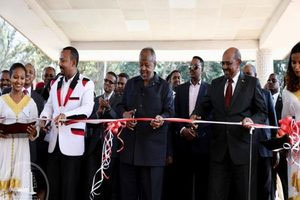 Chinese-built Jimma Industry Park in Ethiopia's historic western town of Jimma, some 350 km west of the capital Addis Ababa, was inaugrated by Ethiopian's Prime Minister Abiy Ahmed, Djiboutia's President Ismail Omar Guelleh and Sudanese's President Omar al-Bashir on Saturday. The three leaders also witnessed a corner-stone laying ceremony for another Chinese-contracted major road infrastructure project as the Ethiopian government aspires to connect strategic towns in western Ethiopia like Jimma with Agaro and Dedesa towns.
Mr. Ahmed said that the two development projects showcase the Ethiopian government's strong commitment to transform the Jimma town and its surroundings and also Ethiopia as a whole towards industrialization.
The Jimma Industrial Park, built by the Chinese construction giant China Communications Construction Company (CCCC), is expected to host investors in light manufacturing sectors, mainly agro-processing, textile and apparel products.
The park stretches over 75 hectares of land, having an ambition to attract foreign investors in Ethiopia's agro-processing sector and also hosts nine manufacturing sheds. Inaugurating the park, the Ethiopian PM said that the Jimma industry park will help the western Ethiopia zone to become one of Ethiopia's industrial powerhouses and indicated that the latest added industry zone would help local community members particularly the youth to get the highly needed job opportunities.
Observing that foreign companies are now approaching the Ethiopian government to invest in the Jimma industry zone, Ahmed also urged local community members to strive with the Ethiopian government's efforts in terms of protecting and benefiting from the industry park. Also since the park is strategically located at the source of Ethiopia's major natural resources, the country's major export commodity coffee would benefit not only the local community but also Ethiopia's economy in general, as stated by Lelise Neme the CEO of Ethiopian Industrial Parks Development Corporation. He also said that the industry zone has now become the sixth operational industry zone in the East African country which would drastically help the socioeconomic condition of Jimma town and its surroundings.
In October this year, Ethiopia had also inaugurated the Adama Industrial Park, which was built by China Civil Engineering Construction Company (CCECC) and located some 74 km southeast Addis Ababa. Both Jimma and Adama industrial parks are part of the Ethiopian government's grand plan to transform the country's largely agrarian economy into an industrialized middle income status by 2025.
Another project which pledged to create as many job opportunities for local community members called the Jimma-Agaro-Dedesa road project set to complete within 3.5 years, is contracted by another Chinese construction company China Railway Construction Company - 21 Group (CRCC-21) and is also a 79 km high-quality road project with about 46 million U.S. dollars construction budget.
According to Lemma Megersa, President of Ethiopia's largest Oromia regional state, the long-awaited road infrastructure, upon its completion, will play a key role in the development of the country in general as well as the Oromia regional state in particular. Jimma town and its surroundings, which are known as the major source coffee export, are considered as an integral part of Ethiopia's recently improved export sector, in which the now-operational high quality road infrastructure is expected to spur the chain of coffee trading in Ethiopia.
Source : Bizmart