M a r k e t N e w s
Ethiopia to host Medexpo in Addis Ababa
Posted on : Friday, 21st December 2018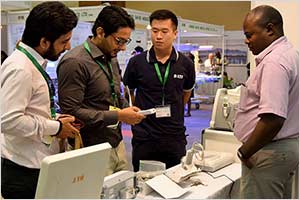 Medexpo Ethiopia 2019 will be held in the Ethiopian capital city of Addis Ababa from 21st to 23rd March 2019. The event caters to the huge opportunity in the healthcare products, equipment and pharmaceutical industry. The exhibition will focus on providing a platform to introduce and showcase healthcare, pharmaceutical and wellness solutions in the medical sector.

In the medical and healthcare sector, pharmaceutical imports of Ethiopia reached US$ 536.1 million in 2017. With a population of over a 100 million, Ethiopia is one of the largest markets in Africa. Given the high rate of domestic demand the Government of Ethiopia while partnering with WHO (World Health Organization) has implemented a national strategy to address the need. The plan combines the objectives of industrial development policy and health policy, so the medical sector can develop, the economy can grow and people can access quality-assured affordable healthcare.

Ethiopia's increased investments in expanding effective health coverage have already improved health indicators in the population and have resulted in growing demand for health commodities. At the same time, better performance in industrial and economic policies has spurred foreign and local investments in the pharmaceutical sector.

Ethiopia considers these industries important for the availability of the medicinal facilities with fair pricing to meet the increasing number of demand. The information from the Ethiopian Pharmaceuticals Fund and Supply Agency indicates the rising population and growing number of health institutions are the major factors for the increment of the demand. Thus the Ethiopian considers attracting foreign investment to the sector including knowledge and technology import as significant to the development and growth of the medical industry.

Source : expogr