M a r k e t N e w s
$3m deal signed to support farmers in Tanzania
Posted on : Friday, 21st December 2018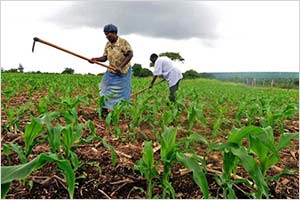 A $3m deal was signed between the Norwegian government and the UN World Food Programme (WFP) which aimed at supporting the Farm to Market Alliance (FtMA) with an objective that aimed at providing smallholder farmers to access farm inputs and markets for their produce.
The signing ceremony was held at Yara Fertiliser Terminal in Dar es Salaam where the Norwegian Minister for International Development Nikolai Astrup signed the agreement on behalf of the Norwegian government, whereas UN WFP Country Director Michael Dunford signed on behalf of WFP.
Norwegian minister said, "achieving the UN sustainable development goals (SDGs) had been his government's priority, especially with respect to attaining food security."
The Norwegian government was happy to support an initiative aimed at affording smallholder farmers to access farm inputs and market for their agricultural produce in the country.
He further noted that, "Agricultural development will benefit smallholder farmers and I hope that development funds like this is a catalyst for the lives of smallholder farmers."
The signing ceremony was also attended by Omar Mgumba, Tanzanian Deputy Minister for Agriculture, who thanked the Norwegian government for the support as he was pleased to note that Tanzania and Norway had always cordial bilateral ties.
"We are optimistic that the funding will benefit intended people," he said, noting that the government recognises the role played by development partners in supporting the agricultural sector in the country.
Norwegian minister thanked the government of Tanzania for its commitment for supporting the agricultural sector, further stating that ever since he arrived in the country he had frank and fruitful discussions with government officials, including President John Magufuli.
The UN WFP country director thanked the Norwegian government for the support he showed to help smallholder farmers to work together and closer to buyers of their produce and access farm inputs.

"Farm to Market Alliance started in Tanzania three years ago and I am confident that with this objective we will achieve the target of reaching out to more than 1.5 million smallholder farmers," he explained.
FtMA is an initiative, which was established in 2015 by eight public and private organisations, that includes Yara International ASA, Alliance for Green Revolution in Africa (AGRA), Buyer, Grow Africa, International Finance Corporation (IFC) among others.
"Yara International ASA, as leading providers of sustainable crop nutrition solutions and supporting farmers profitably, are pleased to be part of the FtMA initiative to uplift the lives of smallholder farmers," Yara Country Manager Mr William Ngeno said.
Source : newzmart