M a r k e t N e w s
Medical Stores Department in partnership with Aga Khan Health Services
Posted on : Friday, 21st December 2018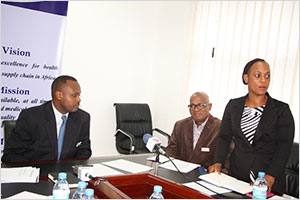 MSD, the Medical Stores Department have collaborated with Aga Khan Health Services (AKHS) by signing an Memorandum of Understanding (MoU) which aims at strengthening the pharmaceutical supply systems.
The Director General of MSD, Mr. Lauren Bwanakunu said, "the MoU would bring the positive change in strengthening the medical supply chain in the country's health facilities."
Mr. Lauren says that, according to him Aga Khan has a huge network for obtain ing of medicines and therefore through the MoU, MSD can utilise their experience that also includes increasing markets for accessing quality medicines in the country.
MSD wants to make sure that quality medicines that are found in the national hospitals are the same to those that are found in lower hospitals including dispensaries, health centres.
Mr. Lauren noted that, MSD obtains medicines from 130 pharmaceutical industries in 26 countries but still there is a need to expand scope so that to strengthen its capacity for obtaining quality medicines into the country.
Further, he commented saying, "there is a possibility that there are some pharmaceutical industries which are not being recognised, but through this memorandum it will be easier and able to rectify where they procure their medicines while we also share our experience with them."
Aga Khan Health Services, East Africa, Regional cEO, Mr. Sulaiman Shahabuddin said that the reason of signing the MoU is not only to ensure cooperation but also to benefit from both organisations.
Mr. Sulaiman also noted that partnerships make sure supply of key clinical consumables like pharmaceuticals, medical surgical and radiology products and also enables both institutions to work together to develop and explore markets and also to enhance source base and to conduct job training on supply chain management.
He says that, we might have good hospitals with quality infrastructure but without a proper medice supply chain we will be doing nothing and therefore this MoU will enable us to gain that benefit to make it happen."
Source : newzmart