M a r k e t N e w s
Ethiopia awards 13 billion Br Road Projects to companies
Posted on : Wednesday, 12th December 2018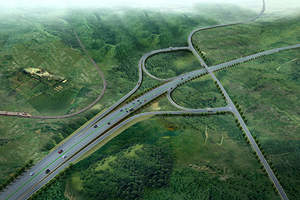 The Ethiopian Roads Authority (ERA) awarded eight road projects out of the total nine to different companies late last week, the ninth one being won by a Chinese firm who made the highest offer to construct a 68.8Km alternative road for Limalimo.
Founded in 1993 in Beijing, Beijing Urban Construction Group Co. Ltd offered 31 million Br a kilometre to construct the road that extends from Debarqe to Zariema, in Amhara Regional State. The company is new to Ethiopia, as it only received another project three weeks ago through fund from African the Development Bank (AfDB).
Beijing won the right for the deal on the same date and ERA awarded the rest eight projects, with a total of 749km length and worth 13.3 billion Br, to four Chinese and four local companies. The projects consume 30pc of the Authority's annual budget. The agreement was signed between the director general of ERA, Araya Girmay and the managers of the companies at the ERA premises around Ras Abebe Aregay Street.
China Railway 21st Bureau Group Co. Ltd, CGCOG Group Co. Ltd and China Communications Construction Company Ltd. (CCCC) are the other companies that were awarded by the ERA. CGCOC Group Co.Ltd. was awarded to construct 97.5Km in Oromia Regional State and offered 18.1 million Br for a kilometre of the road and CCCC won two projects in the Somali Regional State and also made the least offer among the nine projects to construct a 135Km road with 11.3 billion Br for a kilometre. Afro-Tsion Construction Plc, a joint venture of Powercon Construction Plc and Tesfaye Legesse Construction Plc, Sunshine Construction Plc and Akir Construction Plc are the other four local companies.

Powercon and Tesfaye Legesse made the second highest offer to biuld a 50Km road with 23.1 million Br per kilometre in the Amhara Regional state. China Railway made the third highest offer to construct a road in the Southern Regional State offering 20.4 million Br a kilometre to build a 76km road. Sunshine Construction was awarded to construct a 74.3Km road in the Amhara Regional State offering 18.8 million Br a kilometre to construct the road. Akir won a 86km road project in the Benishangul Regional State with the least offer of 15.4 million Br per kilometre.Afro-Tsion will construct a 60.8 Km road in the Oromia Regional state for which the company has offered 13.8 million Br a kilometre.
ERA, which is processing bids for 50 road projects covering 3,000km, has constructed and maintained 7,910Km roads during the past 10-month. The achievement is 99pc of target.
During the signing ceremony, Araya calls regional states to systematically collaborate in order to avoid hassles related to relocation of residents and businesses in the area of the nine road projects. He said, "Problems with compensation and relocation are inevitable, but all have to be resolved, not to cause delays."
Source : Bizmart