M a r k e t N e w s
Federal Agency Signs MOU to Construct 25 Silos for Wheat and Teff Value Chain
Posted on : Thursday, 8th November 2018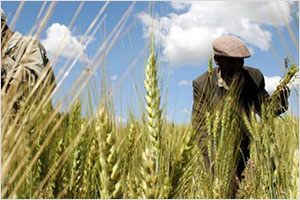 The Federal Cooperative Agency has signed a Memorandum of Understanding with the heads of regional cooperatives to construct 25 silos to be used by agricultural cooperative unions involved in teff and wheat value chain in four regional states. The bid aims to alleviate the shortage of warehouses and help cooperative unions with a reliable and effective market outlet.
The silos will be constructed by 12 contractors under the Alliance for a Green Revolution in Africa (AGRA) project and is expected to be finalized in three months, before AGRA's three-year project in Ethiopia is phased out. According to Addis Fortune, the program is expected to increase the income of 26,415 farmers in the four regional states, and as well build capacity of farmers involved in teff and wheat production by creating market opportunities.
Southern Regional State will get five silos, each with the capacity to hold 200 tones of crops.The region's coop agency will cover 10% of the re-design cost incurred for the silos and will sub-contract the work to two companies for US$143,444.00 (four million Birr).
Oromia Regional State will get nine silos with a total capacity of 2,000 tons, to be constructed at a valuation of US$286,888.00 (8 million Birr) while Tigray Regional State will have six silos in its central zone, to be constructed at a valuation of US$ 179,305.00 (5 million Birr).
The remaining five silos with capacities of holding 2,500ql will be constructed in Amhara Regional State, East Gojam zone, with the cooperative agencies of the regional state paying 26% of the total investment cost.
Source : www.foodbusinessafrica.com