M a r k e t N e w s
Tanzania Uganda mega project to drives growth
Posted on : Friday, 12th October 2018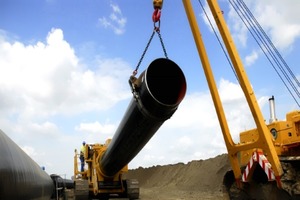 The construction of the 1,403-kilometre pipeline to transport crude oil from Hoima in Uganda to Tanga Port in Tanzania is expected to be completed by June 2020. Tanzania's President John Pombe Magufuli wants investors, the governments of Uganda and Tanzania to expedite the construction of the East African Crude Oil Pipeline (EACOP). The President said that the pipeline should be constructed in the shortest time possible instead of waiting until 2020 to realize first oil. Government of Uganda expects to start oil production by 2020 after construction of key infrastructures like the pipeline and the refinery. However, both countries believe that this project can be fast tracked.
The critical crude oil pipeline is scheduled to be completed by 2020. The project, which is spearheaded by Total E & P, is expected to cost $3.55 billion. The EACOP will support economic growth in the region. and spur infrastructure development in both countries including road network at a port at Tanga, it will also facilitate and boost trade in the region. the pipeline from Kabaale to Tanga is premised on being the least cost, least risky route. The 1,445 kilometer heated pipeline is poised to become the longest heated crude oil pipeline in the world. It will provide access to Uganda's crude oil to the international market
The government, is pushing hard to encourage investors to continue supporting national content in the region which is a key factor in the socioeconomic development. All the necessary policies, laws and regulations have been put in place to ensure that the people are trained and can acquire employment while also ensuring that entrepreneurship is boosted. The Government of Uganda is participating in the East African Crude Oil Pipeline (EACOP) project through Uganda National Oil Company (UNOC).
Source : Bizmart