M a r k e t N e w s
Vehicle assemblers hit record in August
Posted on : Friday, 31st October 2014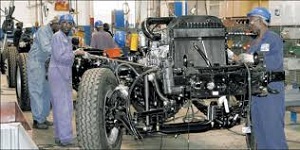 August recorded the highest number of vehicles assembled locally in a single month for over more than five and a half years, signalling a growing appetite for new vehicles.
Provisional data show 879 vehicles were assembled in the month, upholding a trend likely to see 2014 as the strongest year for new motor vehicle dealers.
Industry players say demand is mainly being driven by counties buying fleets, school buses and focus on high capacity public service vehicles.
The country has three vehicle assembly plants – Kenya Vehicle Manufacturers Ltd based in Thika, GMEA on Mombasa Road and Associated Vehicle Assemblers Ltd in Changamwe, Mombasa – which mainly focus on heavy commercial vehicles and pick-up trucks.
"The county system has broadened the scope for customer engagement and focus is quickly shifting to these areas," Geoffrey Mulandi, general manager for sales and marketing at General Motors EA, said in a statement last Thursday. The motor dealer has unveiled a campaign targeting the 47 counties.
Vehicle assemblers first surpassed the 800 units mark in May and production has remained steadily above this for the four months to the end of August, data collated by the Kenya National Bureau of Statistics show.
A total of 6,264 units have been produced locally over the eight months, which is 41.9 per cent higher than the 4,415 units assembled over a similar period last year.
Already, the eight-month production has surpassed annual production in 2009 when 5,060 units were churned out, 2010 (5,721 units), 2011 (6,049 units) and 2012 (6,218 units) as local vehicle assemblage maintains a year-on-year growth.
The trend shows nine-month production will exceed the total 6,948 units put together in 2013, propelling 2014 into an all-time record year.
However, local assemblers face stiff completion from second-hand imports, whose demand has risen exponentially in recent years especially for personal cars.
KNBS says 14,399 vehicles were registered in July, including motor cycles which made up 39 per cent of total registrations in the month. In June, 14,011 vehicles were registered.
"Some of the critical issues for the future development of the sub-sector [vehicle assemblage] include stiff competition from second-hand vehicles, a problem that started when liberalisation of the economy was introduced in 1993," the Kenya Association of Manufacturers, whose membership includes the assemblers, states on its website.
"Massive importation of these vehicles has reduced the capacity utilisation in vehicle assembly plants drastically."
According to the Statistical Bulletin 2014 released by KNBS, Kenya exported passenger vehicles, valued at Sh121.54 million in 2013, higher than the previous year's but nearly half of 2010 exports worth Sh228.16 million – a 10-year high.
In contrast, imports of complete units of passenger cars are rising year-on-year, amounting to Sh42.75 billion in 2013 for 74,120 units.
Imports of complete units of buses, trucks and lorries shot to Sh19.42 billion last year for 6,368 units. Imports of 170 chassis with engines mounted for buses, lorries and trucks attracted a Sh235.98 million bill in 2013.
Source : the-star.co.ke