M a r k e t N e w s
Africa's economy growing; U.S. wants to bolster partnerships
Posted on : Wednesday, 6th August 2014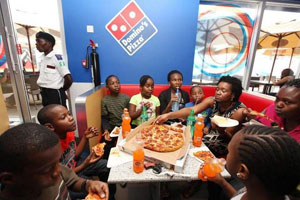 They export BMWs and birdseed and plenty in between. Their middle class is growing fast enough to draw the likes of Marriott and Walmart. China, Europe, Japan and the U.S. are vying to build roads and power plants there.

No longer is sub-Saharan Africa - long a symbol of war, famine and corruption - an economic basket case. Six of the world's fastest-growing economies are there. Higher oil prices, richer consumers and sounder governments have raised so much interest, that Africa's promise is being showcased this week at the first U.S.-Africa Leaders Summit in Washington.

On Tuesday, President Barack Obama announced $33 billion in commitments aimed at shifting U.S. ties toward economic partnerships. The bulk of the commitments came from private-sector companies, such as Coca-Cola and General Electric, underscoring Africa's growing appeal.

The question is: Can all this endure? Africa has stood on the verge of prosperity before only to see its opportunities fizzle. Yet never before has it stood to benefit as it does now.

"Africa presents enormous opportunities," says Paul Sullivan, director of international business development at Acrow Bridge of Parsippany, N.J., which put up hundreds of steel bridges across Africa.

China leads the charge

The consultancy Ernst & Young ranks Africa as the world's second-most-attractive market after North America. Cumulative foreign investment in sub-Saharan Africa has catapulted from $33.5 billion in 2000 to $246.4 billion in 2012, according to United Nations numbers crunched by the Brookings Institution. A decade of solid growth has created a middle class of at least 350 million people with more spending power.

South Africa exports BMW sedans to the U.S. Ethiopia has a niche making shoes. And it produces the best-selling imported birdseed in the U.S.

"We see Africa as the fastest-growing market worldwide," says David Picard, a manager at heavy equipment manufacturer Caterpillar.

In 2011, Walmart acquired Massmart Holdings, which runs 350 stores in 12 sub-Saharan countries. Last year, Marriott International agreed to buy Protea Hospitality, a 116-hotel chain in seven sub-Saharan countries.

Consumers in the Nigerian capital of Lagos eat burgers from Johnny Rockets and ice cream from Cold Stone Creamery.

No nation has been more aggressive in Africa than China. Its direct investment in sub-Saharan Africa has jumped from virtually nothing in 2002 to $18.2 billion in 2012. China is hungry for oil, coal and other resources and eager to develop the roads, bridges and ports needed to pull them out.

Africans tend to favor doing business with China in part because it's less likely than Western nations to demand economic and political reforms to accompany trade and development deals.

"Investors from the U.S. and Europe have tended to be large investors who demand all kinds of facilitation, who expect all kinds of conditions," says Frederick Golooba-Mutebi, a Rwanda-based researcher and honorary fellow at the University of Manchester.

"I do not see Europe and the U.S. catching up with China."

U.S. makes effort

This week's summit is seen as a U.S. effort to regain some of the influence lost to China over the last decade. Next year, the U.S. hopes to expand a 14-year-old free-trade deal with Africa.

"We have some catching up to do," said Michael Bloomberg, the former New York mayor and billionaire businessman who opened the summit Tuesday. "We are letting Europe and China go faster than the U.S."

Obama has sought to cast the U.S. as a better partner than China, arguing that his administration has a long-term interest in Africa's success and is not simply seeking to extract resources.

"We recognize Africa for its greatest resource, which is its people, their talents and their potential," he said.

Democratic influence

In the decades after many of the countries regained their independence in the 1960s, their natural resources — Nigerian oil, Liberian diamonds, Congolese copper and cobalt — failed to support durable growth. They sometimes proved a curse: Proceeds would vanish into Swiss bank accounts of corrupt leaders and give armed factions something to fight over.

Analysts note hopefully that the current resurgence is built on foundations sturdier than the ups and downs of commodity prices. Many African nations are more democratic, making it easier for entrepreneurs to do business, and have boosted investment in education and infrastructure.
Source : freep.com