M a r k e t N e w s
Hyatt and Hilton to Increase Scale of Operation in Africa as Industry Booms
Posted on : Saturday, 6th January 2018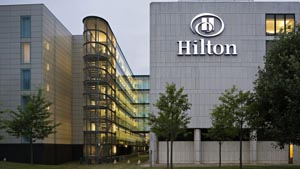 Two of the world's elite multinational hospitality companies, the Hilton Worldwide Holdings and Hyatt Hotels & Resorts have announced their plans to expand their operations across the African continent. Hilton has devised a plan that will see them invest $50m in a five-year period and add 100 hotels to its portfolio. While, Hyatt has a plan to invest in another 6 hotels in Africa by 2020.
This hospitality industry has contributed $165.6bn to Africa's GDP in 2016. This accounts for 7.8% of the economy. The figure is expected to further rise by 2.9% this year, as reported by the World Travel & Tourism Council.
The tourism sector is also responsible for 8.8 million jobs, which amounts to 2.4 percent of Africa's employment. The number of planned hotel chain developments has also increased greatly since 2009, from 30,000 rooms in 14 hotels to 73,000 rooms in 417 hotels.
Africa's hotel industry has proven to be durable in the face of low growth because demand has continued to surge, according to Patrick Fitzgibbon, senior vice president of development at Europe, Middle East and Africa (EMEA) at Hilton Group.
"Some of the driving forces for increased activity in sub-Saharan Africa are the strong GDP growth in parts of the continent, and a rapid growth of both domestic and international travellers into the market," says Fitzgibbon. "There is also a shortage of quality hotels in the continent, and as the middle class grows, we are seeing higher demand for the quality hotels."
69 percent of all the travel spend in Africa over the last year was earned through leisure travelers, with the rest acquired through business. The travel & tourism industry were the recipients of $28.5bn of investment during this time. This accounts for 6.2 percent of all investment into Africa.
Tejas Shah, Hyatt's director of acquisitions and development for sub-Saharan Africa sees potential for further growth in Africa because of the continued development seen across the region.
"The hotel industry has proven to be resilient because Africa starts from a low base when it comes to supply of high-quality hotels in the continent," he says. "And Africa also has the right demographics for growth in the middle class."
A reported increase in intra-Africa travel also remains of great interest to the hospitality sector, with 4 out of 10 travelers in Africa being from within the region, Shah said. This domestic market is untapped and has helped in driving development policies towards Africa for some large multi-national firms.
Source : www