M a r k e t N e w s
US$ 13 Million Mihrab Building Now Open in Nairobi
Posted on : Monday, 16th October 2017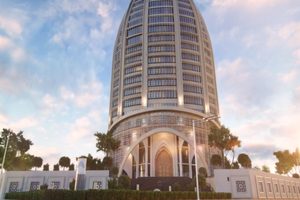 US$ 13m development FCB Mihrab will soon be open to the general public. The building has been designed to portray Islamic values and is already available for occupation.
The building will be on Lenana Road in Kilmani, Nairobi. The building will be a symbol of purity and goodness in accordance with Islamic culture. The building is situated in an up-scale rapidly developing locale.
Mihrab Development Project Administrator, Farhiya Ibrahim confirmed the news of Community Bank will be the first anchor tenant. She also revealed that the building will be 25-storeys tall and is very close to being fully booked.
FCB Mihrab will also be equipped with several facilities like open sky terraces, backup, main generators among many others. The building will also feature high-speed lifts connected to BMS systems for monitoring purposes. Cameras in the common areas will also be hooked to the BMS system.
Environmental amenities of the likes of grey-water recycling system and a water treatment system will also be made available.
A prayer hall, gym and outside cafeteria will be other facilities that will be available to the patrons.
The initial purpose of the building was to house the headquarters of the First Community Bank. It was later translated to a bigger firm who will now reserve spaces for office suites and other such purposes.
About the Developers
Mihrab Development Limited (MDL) is a Kenya based Real Estate Company, with a goal to radically change the standards in which the industry is currently viewed by working towards the delivery of state of the art buildings for their targetted market while also working towards achieving the goals set by Vision 2030.
Source : Business News Africa