M a r k e t N e w s
Solo Oil acquires interest in Kiliwani North Gas Field, Tanzania
Posted on : Wednesday, 15th October 2014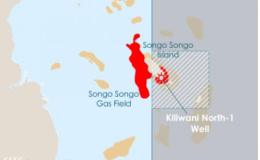 Solo Oil plc has announced that it has signed binding heads of agreement to acquire an initial 6.5% interest in the soon to be producing Kiliwani North Development License in Tanzania from Ndovu Resources Ltd. for a total consideration of US$3.5 million ("Initial Acquisition").
Solo also has a 45 day option to increase its interest in the KNDL by a further 6.5% to 13% ("Second Acquisition").
The KNDL contains the Kiliwani North 1 well which is expected to produce at an approximate rate of 20 million cubic feet per day (equivalent to more than 3,000 barrels of oil per day) in first half 2015.
This agreement, when closed, will represent a major landmark for Solo as it will give the Company its first revenue from Tanzania. Independently verified gross in-place unrisked mean gas resources of the well, computed by Isis Petroleum Consultants Pty Ltd, are estimated as 45 billion cubic feet.
Construction of the 2 kilometre long pipeline from KN1 to the new Songo Songo gas processing plant has now commenced and is expected to be completed in early 2015.
The Songo Songo gas processing plant is connected with the newly constructed 36-inch gas pipeline from Mtwara in the south of Tanzania to Dar es Salaam, the national capital, in the north, and this provides an immediate route to monetise the Kiliwani North gas production.
Ndovu (Aminex's nominated joint operator of KNDL together with the Tanzanian Petroleum Development Corporation) is in advanced negotiations for a gas sales agreement with the Tanzanian authorities and these negotiations are expected to be satisfactorily concluded in the near future.
Solo notes that the Tanzanian authorities have recently reached agreement with another operator in the region.
Solo and Aminex are already partners in the Ruvuma Production Sharing Contract ("Ruvuma") in southern Tanzania, with respectively 25% and 75% working interests, and where newly acquired seismic data has extended the potential of the Ntorya appraisal area. The partners in Ruvuma have recently announced an upgrade of the mean gas in-place estimate to 2.3 trillion cubic feet ("tcf") by combining the Ntorya discovery with the adjacent Likonde prospect.
"This acquisition significantly increases Solo's exposure to the rapidly developing Tanzanian gas sector and will provide valuable revenue for many years from the soon to be commissioned Kiliwani Gas Field on Songo Songo Island. Solo and Aminex are continuing to work together to commercialise the exciting multi-tcf Ntorya discovery and participation in Kiliwani North provides valuable near-term revenue and insights into the Tanzanian gas market," says the Company's Executive Director Neil Ritson.
The key terms of the proposed KNDL acquisition are set out below:
1.The Initial Acquisition will consist of a cash payment of US$3.5 million for 10% of Aminex's 65% interest in KNDL, representing a 6.5% interest in the entire KNDL, payable as a refundable deposit of US$250,000 within 7 days of 13 October 2014, with the balance of US$3.25 million becoming payable upon completion of the formal acquisition agreement. Completion of the Initial Acquisition is subject to (1) confirmation of waiver of pre-emptive rights by various joint venture partners, and (2) receipt of written approval from the Tanzanian authorities to the assignment, each being satisfied within 45 days of 13 October 2014.
The parties have agreed to enter into a formal acquisition agreement within 30 days of 13 October 2014.
2.The Second Acquisition will consist of an option by Solo to acquire a further 10% of Aminex's 65% interest in KNDL (a further 6.5% interest in the entire KNDL) on the same terms as the Initial Acquisition. This option will be exercisable within 45 days of 13 October 2014.
Source : OIL NEWS KENYA