M a r k e t N e w s
African chemicals industry has growth potential
Posted on : Monday, 6th October 2014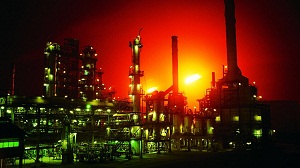 Despite South Africa having the largest and most sophisticated chemicals industry in Africa, estimated at $30-billion, it only contributes about 1% to the global market, says global growth consulting firm Frost & Sullivan chemicals, materials and food industry analyst Dilshaad Booley.
However, Booley notes that the South African chemicals industry is expected to have moderate growth of between 3% and 4% over the next five years, through innovation and increased operation efficiency, making the chemicals industry more competitive and attractive.
"Petrochemicals growth will be driven by the demand from end-users, such as the paints and coatings, automotive, mining and construction sectors, where large amounts ofchemicals are still procured locally, as the local refinery capacities meet the bulk of local demand.
"The market for petrochemicals is expected to grow at a compound yearly growth rate of close to 2%, owing to limited investment in local refineries and old technology limiting efficiency," Booley asserts.
She notes that the greatest potential for growth in the chemicals industry lies in theplastics sector, with moderately high growth expected, amidst the slow GDP growth and market maturity.
Also, the demand for additives used in fuels is expected to increase as the local Clean Fuels II regulation, which aims to lower the sulphur content of fuels, is expected to come into effect in 2017. In addition, the biofuels-based legislation for fuels, to be implemented in 2015, will impact on this demand. This legislation requires all diesels produced to have a 5% blend of biodiesel, and ethanol to have a bioethanol blend of between 2% and 10%.
Meanwhile, Booley points out that the local chemicals market is becoming increasingly competitive, owing to intensified regulations on emissions and waste, which puts chemicals manufacturers and end-users under pressure.
"The biggest challenges in the South African chemicals market are the large volumes of raw chemical materials that continue to be imported and are subject to exchange rate fluctuations. "Delays at ports when importing chemicals, and strikes, add to the costs ofchemicals, which are, in most cases, absorbed by the manufacturer to remain competitive, resulting in lower profit margins," she asserts.
Booley adds that another challenge is the outdated technology and processes used to refine and produce chemicals in South Africa. As a result, the chemical products manufactured are not competitive, compared with similar international goods, lowering demand for locally produced chemicals.
"Upgrading technologies requires high capital investments, which are not easily accessible in South Africa, owing to product cost implications. However, more investment could potentially result in more efficient production processes and lower operating costs," Booley says.
Currently, there are limited research and development activities in the local chemicals industry. She explains that technological advances are primarily driven by multinational corporations as they want to maintain their global brand image and standards, which results in these corporations adopting foreign technologies, thereby advancing the local chemicals manufacturing sector.
"The local chemicals industry offers major input materials, such as solvents and polymers, to the manufacturing sector," Booley outlines.
There has, however, been slow growth over the past two years and the sector is expected to continue being a slow-growth market for the chemicals industry," she posits.
Booley suggests that government's emphasis on the local development of pharmaceuticals will help drive advocacy for local input materials, such as excipients and active pharmaceutical ingredients, through tenders.
"The agricultural chemicals sector is also expected to register significant growth, though future regulations could potentially slow down the increase in the supply of crop-protection chemicals," Booley concludes.
Source : www.engineeringnews.co.za