M a r k e t N e w s
Power Africa Off-Grid Energy Challenge to implement renewable energy projects
Posted on : Saturday, 4th October 2014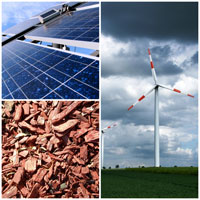 22 winners of the second round of Power Africa Off-Grid Energy Challenge have been announced by General Electric Africa, the United States African Development Foundation (USADF) and the U.S. Agency for International Development (USAID).
The winners, who include 4 from Nigeria – Topstep Nigeria Ltd, Ginphed Nigeria, Quintas Renewable Energy, Sky Resources – will now undertake renewable energy generation projects all over Africa. USADF, USAID and GE Africa, the funding group for the renewable projects through the Power Africa Energy Challenge scheme, will now release US$100,000 for each of the 19 countries including Nigeria, to execute various projects. The challenge will, in total constitute a US$2.2m investment.
The Power Africa Off-Grid Energy Challenge was under Power Africa Energy Challenge scheme, a renewable energy initiative under the larger Power Africa initiative by US to connect 20 million households and businesses to power/electricity in sub-Sahara Africa.
The renewable energy projects to be undertaken involves generation of power from wind, solar, hydro-electric and biogas, to provide 3.4MW of electricity to rural communities across sub-Saharan Africa. They will be expected to add a total of 3.4MW of power.
The winning projects in the Power Africa Off-Grid Energy Challenge included 14 solar developments, six biogas generation projects, one wind turbine system and a small hydroelectricity power plant.
Topstep Nigeria Ltd, one of the Nigerian company winners, will use the funds to extend its solar capacity to power its maize mill reaching over 500 people in Kaduna.
Quintas Renewable Energy is set to develop a 500kw biomass power plant, which will supply power to 230 households in Ondo state. Sky Resources will also generate off-grid electricity from a small solar micro-grid for 75 small businesses in a village in Imo State.
The fourth winner from Nigeria was Ginphed Nigeria, which is set to construct a bio-digester that will convert animal manure into biogas, to be used for electricity generation in local firms. The Power Africa Off-Grid Energy Challenge attracted 300 applicants.
Source : www.constructionreviewonline.com