M a r k e t N e w s
Hydro Industries opens water plant for 82 African villages
Posted on : Tuesday, 25th October 2016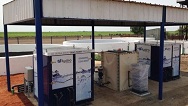 Llangennech-based Hydro Industries officially opens a treatment plant, which it has designed and manufactured, in Sudan on Saturday.
It will deliver 8.5 million litres of water to 82 villages every day.
The opening coincides with the 10th anniversary celebrations of the Welsh Government's Wales for Africa programme.
Wales for Africa was launched in response to the Make Poverty History campaign and encourages Welsh people and companies to get involved in development work in Africa.
Since then 528 projects across 25 African nations have been supported.
They include the Anglesey-based company SaddleAid, which developed a saddle to allow pregnant women and sick people living in remote parts of Ethiopia to be transported safely to hospital by horse.
Rhondda Cynon Taff-based charity PONT has been helping to improve the lives of poor people in the Mbale region of Uganda.
To date the charity has:
Trained over 1,200 village health workers
Provided education for over 100,000 children
Supplied 20,000 families with mosquito nets
Supplied 2,000 families with goats for milk
Source : www.bbc.com