M a r k e t N e w s
PSA Makes Europe Player in Ethiopian Auto Industry
Posted on : Wednesday, 12th October 2016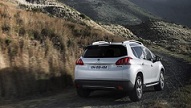 French automaker PSA Group turns to Ethiopia to launch assembly of Peugeot 2008, 301 and 208 models.
PSA opened the new $1.2 million assembly plant in partnership with Mesfin Industrial Engineering, a local business that built the factory in Tigray in the northern region of the East African country. It is expected initially to assemble 1,200 vehicles yearly for sale to Ethiopia's growing car market and to neighboring countries Djibouti and Somalia.
"This is merely the initial phase of operations," says Jean-Christophe Quémard, PSA executive vice president-Middle East and Africa.
"On the basis of the size of Ethiopia's car market we look to be producing about 30,000 Peugeot vehicles per year," says MIE General Manager Habte Hadish.
MIE is the first company to assemble a major European vehicle brand in Ethiopia; most local competitors are Chinese automakers Geely, FAW, BYD and Lifan.
"MIE has the exclusive right to assemble Peugeot cars in Ethiopia, which are being assembled in the same facility used to assemble other brands of sedan cars," Hadish says. "The investment (in) the partnership with Peugeot is related to specific assembly tools."
MIE entered Ethiopia's vehicle market in 2011 when it began assembling German MAN trucks for sale locally. It currently assembles three automobile brands for Geely, as well as Sonalika tractors in collaboration with International Tractors of India.
An emerging middle class in Ethiopia, Africa's second-most populous nation with 94.1 million people, is fueling demand for foreign cars such as the Peugeot brand, which is making the country an attractive investment destination for automakers and assemblers.
However, despite its potential as an emerging automotive market, Ethiopia's car production and ownership is still low; the country has only 84,000 registered vehicles.
According to the International Organization of Motor Vehicle Manufacturers, vehicle ownership on the African continent was estimated at 44 per 1,000 people in 2014, compared with 808 in the U.S.
Source : wardsauto.com