M a r k e t N e w s
Museveni opens biggest steel plant in East Africa
Posted on : Saturday, 27th September 2014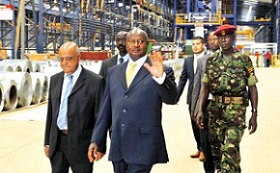 President Yoweri Museveni has commissioned the new Ushs320b Roofing's Group mega steel factory in Namanve, Mukono district urging locals to learn from the work methods of Ugandans of Indian origin to fast track development.
Established in 1994 by Sikander Lalani, Roofings Group is now the largest steel factory in East and Central Africa and is worth an estimated US$280m (Ushs782b).
The latest Ushs320b expansion has increased the factory's capacity to 480,000 metric tonnes of assorted steel tubes annually.
The plant will consume up to 43MW of electricity, increasing the urgency for new power dams to go online.
There are plans that the factory's large 70,000 square meter roof could generate 245MW of solar electricity for the national grid.
Roofings Group employs an estimated 3,000 Ugandans. The latest expansion will generate US$100m (Ushs260b) in forex earnings and create an additional 1,500 permanent jobs.
"I want to congratulate Mr. Lalani for building this factory and contributing to the economy. Lalani has worked tirelessly. The money he makes here is as much as all coffee earnings combined," the President said at the Namanve Industrial Park.
"There is no need to look for jobs abroad where it is bitterly cold when the jobs are right here. Locals should learn from Ugandans of Indian origin instead of getting jealous," he added.
President Museveni pointed out that production of agricultural commodities is the first pillar of development. He noted that industry, services, technology, ICT and good governance are the others.
He urged steel companies to form a consortium to fully integrate the iron ore mining industry.
Uganda has iron ore deposits in Kasese and Tororo, in addition to other deposits within East Africa.
Lalani urged the Government to create a new, lower tariff for bulk consumers of electricity and piped water. President Museveni said this will be done.
"In future when the oil sector is fully developed, Roofing's Group will be the largest local consumer of Liquefied Petroleum Gas," Lalani said.
"The Government is formulating a National Iron and Steel Policy to encourage the growth of the iron and steel sector," trade minister Amelia Kyambadde said.
Oliver Lalani, the Roofings Group executive director, noted that the factory has installed an air pollution control system which recycles up to 6,000 tonnes of carbon dioxide during the production process every year. Stanbic Bank, Citi Bank, Bank of Africa, PTA Bank, East African Development Bank and the International Finance Corporation funded the new factory through a long-term syndicated loan.
Source : www.pesatimes.com