M a r k e t N e w s
Kenya Power to put up sh300m to boost power supply in Wundanyi
Posted on : Thursday, 29th September 2016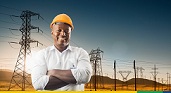 Kenya Power is putting up a sh300 million substation at Wundanyi in a bid to reduce frequent power outages and improve quality delivery of services to its customers.
KPLC Regional Manager Coast Hezikiah Mwalwala disclosed on Tuesday they had been allocated land by the Taita-Taveta County Government to put up the high powered voltage project in the area. "We have been allocated half-acre plot by the county administration in Wundanyi town to construct the project. It is being implemented by the KLPC," he told the press. The official had earlier paid a courtesy call on Governor John Mruttu at his Wundanyi office. Mr Mwalwala briefed Governor on the on-going development projects being implemented by his organization, World Bank among other agencies in the region.
"Funds for the implementation of the project are available and the construction work starts next month and completed in nine months. Once completed the project will help minimize recurrent power blackout in the area," said the official. "Frequent power blackout will be a thing of the past in the area once the project is implemented. The project is aimed at improving service delivery to our customers," he maintained.
Wundanyi town, the current County Headquarters had frequently been hit by power black outs, an issue that had adversely been affecting business.
The town and its environs also depend on unreliable power supply from Mwatate Sub Station. "Taita Sub-County is entirely dependent on the Mwatate Sub-Station which also serves Taveta Sub County and Loitokitok area in Kajiado County. The establishment of the Sub-Station is the only solution to the problem," noted Mwalwala. Mr Mruttu told the KPLC officials that his administration would closely work with them to ensure quick implementation and sustainability of the power project. The project comes at a time when the region has been grappling with frequent power blackout. "The additional power substation will help address the problem," assured e Regional Manager. In addition, the World Bank will also spend more than 62 million to install street lights in Voi and Wundanyi towns. At list Sh 22 million will be spent on street lights in Voi and the rest in Wundanyi, added Mwalwala.
Source : www.standardmedia.co.ke