M a r k e t N e w s
Egypt to tender for 8Gw power generation projects
Posted on : Monday, 22nd September 2014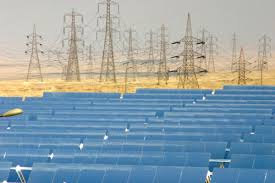 Egypt is planning to offer two tenders for projects that will see it add 8GW of coal power, wind and solar, according to Minister of Investment Ashraf Salman. The Minister said last week that two coal power plants will be constructed in the 2014/2015 fiscal year (as part of the overall plan), and will help the country meet the growing need for electricity.
A power generation project relating to generating 4Gw of power from wind and solar, as part of the project, will be offered in the next two weeks according to the minister. The investment will take up US$7m. The project will further be divided into 2Gw each, one of solar and another of wind.
Construction of the 4Gw solar power plants is expected to end in the end of 2014/2015 fiscal year, while the wind power plant project is expected to be completed by end of 2015. Salman also disclosed that the government will be the buyer under a tariff plan that was approved recently.
Salman also said that the government will offer tenders in relation to coal power plants in the FY 2014/2015 fiscal year, a project that will add 4Gw of power into the country's national grid. He also said that the country will offer bids in relation to power generation projects that will help it generate 30 GW from new and renewable energy sources over the next 10 years.
He claimed that the government wants to find an optimal solution to the country's energy problem, amidst growing need.
The government has created opportunity for individuals and investors to gain contracts relating to generating electricity under the "feed-in" tariffs that have been accepted. The power will then be sold to the government.
Salman also added that factories manufacturing new and renewable energy plant components will be set up in the country after the 4GW power generation project tender has been offered. In this, local producers will be able to compete with importers of these components.
Source : construction review online