M a r k e t N e w s
Zambia s US$259.3m Kazungula Bridge project kicks off
Posted on : Friday, 19th September 2014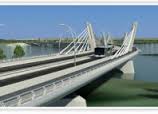 Construction of the large Zambia's Kazungula brigde has started after the ground-breaking ceremony was held on the Botswana side of the Kazungula border on 12th of this month.
The ground-breaking ceremony was led by Vice –President Guy Scott and his Botswana counterpart, Ponatshego Kedikilwe. The former urged the contractor and supervising engineer to wrap up on working on a US$259.3 Kazungula Bridge project within the set time frame. The multimillion dollar bridge is expected to be completed by 2018. The contractor of the project is Daewoo Engineering and Construction.
Construction of the Kazungula Bridge has been on process for more than 10 years with no much improvement, but now is a great relieve to those who will be using it, and the country as a whole.
The ongoing project will be undertaken by Zambia and Botswana governments, with financial assistance from Japan International Cooperation Agency (JICA) and the African Development Bank (AfDB).
In addition to creating job opportunities, the Kazungula Bridge project is expected to facilitate faster movement of products within the region. It will reduce the transit time from 36 hours to two hours. It will also help bring down transportation costs and the cost of doing business in general and, ultimately, increase revenue for the two countries.
Dr Scott also said the Kazungula route had become increasingly popular to transporters shipping freight
Japan International Cooperation Agency (JICA) resident representative, Atsushi Nakagawa, thanked the two governments for undertaking the project.
Source : construction review online