M a r k e t N e w s
African Health Ministers to Endorse Regional Oral Health Strategy for 2016-2025
Posted on : Thursday, 8th September 2016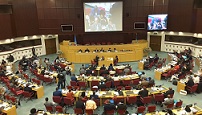 Today, health ministers of the WHO African Region will endorse a strategy for Member States to improve oral health and enhance control of non-communicable diseases in general.
"Oral health conditions have an impact on the quality of life of the affected, whereas treatment is costly for individuals, communities and countries. Yet, there are efficient and affordable interventions that could be brought to the people where they live. Preventive actions can be carried out in schools, communities, and primary health centres by frontline health workers," says Dr Matshidiso Moeti, WHO Regional Director for Africa.
Dr Moeti proposes that progression of dental caries among children and adolescents should be stopped by 2025. During the same period, the proportion of the population using daily fluoride-containing toothpaste to prevent dental caries should increase by at least 25%. It is recommended that at least 10% of primary healthcare facilities should be able to deliver safe essential oral health care. Dr Moeti further wishes that oral health services should be accessible to at least 50% of people who are in need.
The number of persons with oral health conditions is currently high in the Region. Ninety percent of those conditions are not treated, whereas the coverage rate of adults who explicitly requested appropriate oral health care ranges from 21% to 61%. This situation is due to the unequal distribution of medical personnel specialized in oral health and lack of adequate facilities.
Oral health contributes to the growing burden of non-communicable diseases; hence it is increasingly being recognized as a major public health challenge in the African Region. The strategy provides a number of priority interventions, with a particular focus on the prevention of risk factors common to non-communicable diseases such as tobacco use, harmful use of alcohol and unhealthy diet high in sugar.
Implementing the Strategy relies on a number of guiding principles including the full engagement of communities, intervention of non-health-sector actors and delivery of accessible oral health services to all.
Source : africasciencenews.org