M a r k e t N e w s
FG targets 1m tonnes of cooking gas yearly
Posted on : Wednesday, 17th September 2014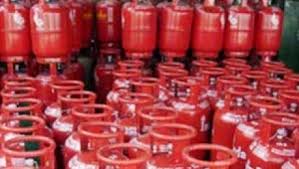 The Federal Government has said it plans to supply the local market up to one million metric tonnes, MT, of Liquefied Petroleum Gas, LPG/cooking gas yearly, to boost per capita consumption of the commodity in the country.
Currently, the market is being supplied with about 250,000MT, up from the 150,000MT, when it began its intervention in the sector about a decade ago.
The Head, Environment, the Department of Petroleum Resources, DPR, Lagos Zonal Office, Mr. Patrick Emordi, disclosed this last week at the 2014, stakeholders' forum with LPG Operators..
He said the country recorded 85,000MT gas supply in 2009, which increased to 210,000MT in 2013, a development that buoyed the hope of achieving about one million MT in the near future.
Emordi argued that government has continued to put in place measures that would deepen LPG consumption in the country.
"In addition to boosting LPG distribution nationwide, the Department has introduced a new interim guideline for gas retailing at DPR licensed retail outlets across the country, thereby making LPG readily available to consumers.
"The guidelines for the grant of permit for bulk LPG off-take have also been approved to guide LPG vessel owners," he said. He added that in furtherance to governments' drive to reach more consumers, the use of gas as automotive fuel is gaining acceptance among Nigerians.
He noted that in view of safety concerns in LPG operation across the nation, safety audits will be carried out in gas plants with particular emphasis on electrical components for future licence renewal.
"The Department in the coming months shall commence facility audit of licensed plants nationwide to ensure compliance with statutory provisions on operational safety. The plant operators must be conversant with all safety requirements in LPG plant operations," he added.
Also speaking, the Zonal Operations Controller (Lagos Zonal Office), DPR, Mrs. C. N. Njoku, in her welcome address emphasised the need for operators in the oil and gas industry to embrace the statutory requirements for their operations.
She said, "The Nigerian petroleum laws and regulations are investors friendly and intended to provide guidelines for safety and growth in a sustainable manner such that investments embarked on by investors are protected and the environment safeguarded."
She said that government's aspiration is to sustain a robust economy, and this can only be achieved when business entities thrived, thereby reducing unemployment, and ensuring a clean environment through the propagation of the use of LPG.
There are about 76 LPG licensed plants in the zone, 57 of them in Lagos and 19 in Ogun state. Also, there are about 145 gas retail shops in Lagos and 53 in Ogun, making a total 198 licensed shops.
Speaking on irregularities in operations, Njoku noted that despite directives to operators to desist from sharp practices, some LPG plant owners have continued to sell products to unlicensed distributors and bulk end users.
"The Department wishes to reiterate its advice and to remind us once again that sanctions await operators that continue selling LPG to unlicensed distributors and industrial consumers. Prospective LPG plant owners must follow due process to obtain all requisite approvals before the commencement of any project, and the upgrades of existing facilities also require approval of the Department."
Continuing, Njoku stressed the need for operators to adhere to various design considerations/approvals and requirements such as layout, spacing and distance requirements for vessels, drainage, and containment control. This will limit the extent of fire damage in the event of accidents.
Source : energy mix report