M a r k e t N e w s
Kenya Seed Introduces New Maize Variety Resistant to Striga Weed
Posted on : Wednesday, 17th September 2014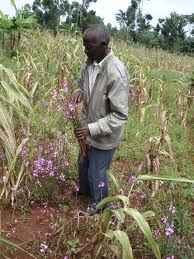 The Kenya Seed Company has introduced new maize seed variety which is resistant to the maize lethal necrosis virus.
Managing director Willy Bett said the company has also unveiled highland hybrid maize seeds and another maize seed variety, known as "Ua Kayongo" that is resistant to the striga weed common in western Kenya and North Rift.
"We have developed a maize seed variety that is showing high resistance to the Maize Lethal Necrosis Disease, which has destroyed acres of maize plantations in the country," Bett said.
The disease is caused by a combination of the sugarcane mosaic and the maize chlorotic mottle viruses, which are transmitted by aphids and thrips.
"We now hope that most of the farmers in Western Kenya, who have been realising poor maize yields will improve on food production. We have commenced with 52.9 metric tonnes of the seed variety," Bett said during the launching of the seed.
Agricultural experts have also attributed poor maize yields to the continued use of DAP fertiliser, arguing that the input has caused the soil to become acidic, making it less productive.
Trans Nzoia governor Patrick Khaemba has asked the national government to supply non-acidic fertilizers to the county saying the continued use of DAP has made soils more acidic.
Bett urged farmers to always buy maize seed from certified stockists to avoid being sold fake seeds.
Agriculture cabinet secretary Felix Koskei said the government has allocated Sh37 billion towards boosting food production across the country.
Koskei cited unpredictable weather and land subdivision as major challenges affecting crop production in the country.
"The government has allocated Sh2.7 billion to purchase about 500,000 bags of maize from farmers during this year's harvesting season. We will be announcing the prices later, but I am optimistic the price will be fair," he said.
Koskei refuted claims that the government has imported maize from Tanzania, adding that millers and traders have been importing maize from the neighbouring countries and not the government.
He noted that according to the East African Community treaty, any of the EAC countries is free to sell its products and the government has no mandate to ban any of the members from importing or exporting goods and services.
"What our farmers should do is to ensure they produce high quality products which are better than those produced in other East African countries in order to get an upper hand in selling their commodities," he said.
Koskei said claims that Kenya seed has employed 1,000 people out of 1,200 from one ethnic community will be looked into to ensure ethnic balance at the firm.
"Since jubilee took over, it has never employed anyone at Kenya Seed. The government is planning to partner with Trans Nzoia, Elgeyo Marakwet, West Pokot and Uasin Gishu counties in coming up with a crop diversification programme to enhance frequent income generation by farmers," he added.
Koskei dismissed claims by some farmers that poor yields have been due to low quality seed, saying Kenya Seed Company supplies quality inputs.
"Farmers should know that good seed alone cannot guarantee high yields if proper crop management is not practiced; other practices such as proper land preparations, use of appropriate fertiliser, top dressing and weed control should be practiced to ensure good yields," he said.
Koskei said the government will establish a bull station in Kitale which will help to produce one million pieces of semen each year to enhance good quality livestock.
"We are also upgrading Kenya veterinary vaccine to enable it produce oil-based vaccines to reduce the cost of vaccine of livestock by 70 per cent.
Source : allafrica.com