M a r k e t N e w s
Nigeria, Kenya Sign MoU On Agribusiness Development
Posted on : Wednesday, 17th September 2014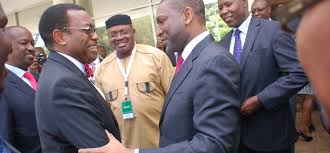 THE Federal Government on Friday in Nairobi signed a Memorandum of Understanding (MoU) with the Kenyan government for the promotion of agribusiness between both countries.
The Minister of Agriculture and Rural Development, Dr Akinwunmi Adesina, who spoke at the ceremony, said that seven out of the 10 fastest growing economies in the world were in Africa.
Adesina said 65 per cent of the arable land that would provide "food for the world's nine billion people in 2050 is in Africa".
He, therefore, urged African countries to unlock their potential in agriculture and become major players in the sector.
We must work as Africans and use our land for economic posterity; if a Nigerian invests in Kenya or a Kenyan invests in Nigeria, it is not direct foreign investment.
This is because a Kenyan is not a foreigner in Nigeria or a Nigerian a foreigner in Kenya; it is a home to home investment because we are all at home here in Africa.
Africa is our home, nations are simply where we reside in," he said.
Adesina said that the size of food and agribusiness sector in Africa was estimated to be one trillion dollars by 2030 and the size of investment was projected at 45 billion dollars.
The minister said President Goodluck Jonathan and his Kenyan counterpart, President Uhuru Kenyatta, were committed to ensuring a favourable environment for the private sector to do business in both countries.
NAN reports that the MoU would encourage commercial activities in coffee, wheat, flower, horticulture, fisheries, tea, cassava, among others, in both nations.
Earlier, Mr Felix Koskei, Kenya's Cabinet Secretary, Ministry of Agriculture, Livestock and Fisheries, expressed delight for the partnership.
Koskei said that the tea consumed in Nigeria was produced in Kenya but processed in Europe, saying that the middleman Europe would be cut off.
He described the MoU as a catalyst that would boost trade and other business activities between both countries in the nearest future.
The cabinet secretary said that Nigeria could learn from Kenya's leather, meat, milk, cooperatives sub-sector, while Kenya could also learn from Nigeria's Growth Enhancement Support (GES) scheme, cassava production to name but a few.
Source : allafrica.com