M a r k e t N e w s
Tanzania: Dar Port Infrastructure Set for Further Improvement
Posted on : Wednesday, 17th September 2014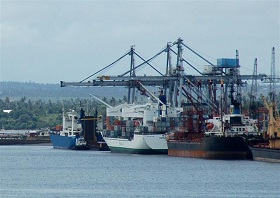 Goods containers piled up at Dar es Salaam port ready for forwarding to various destinations. The port is set to receive funds from a combined soft loan and grants from the World Bank and the UK's Department of International Development (DFID) for activities aimed at improving efficiency at the port. (File Photo)
FINALLY funding for deepening, dredging and construction of berths 1 to 7 at Dar es Salaam port valued at over 800bn/- will be provided by a combined soft loan and grant from World Bank, UK's Department for International Development (DFID).
A memorandum of understanding to that effect was signed last week by Ministry of Transport Permanent Secretary, Dr Shaban Mwinjaka, World Bank Country Director for Burundi, Tanzania and Uganda, Phillipe Dongier, Ros Cooper who is acting Head of Office at DFID Tanzania and Frank Matseart who is Chief Executive Officer of TradeMark East Africa.
The Minister for Transport, Dr Harrison Mwakyembe and the visiting World Bank Managing Director, Sri Mulyani Indrawati said after the signing ceremony last Friday that the money would help deepening of the port's entrance and upgrading of berths 1-7.
Speaking during the MoU signing ceremony, Ms Indrawati underscored the importance of developing the country's prime port stressing that the government should also involve the private sector. "I hope that authorities will also invite more private sector participation in the port development," Indrawati said.
She pointed out that the World Bank, UK's Department for International Development and TradeMark East Africa will provide the funding in phase one of improving Tanzania's prime port which also serves six land locked countries of Burundi, DR Congo, Malawi, Rwanda, Uganda and Zambia.
"The World Bank will continue supporting the government to modernize this port and in phase two we hope to provide more funding for more expansion and modernization," she said.
Transport Minister, Dr Harrison Mwakyembe said the government would continue working with development partners to improve Dar es Salaam port and the railway system to allow smooth and timely transportation of cargo.
"Before the end of this year, I will invite all of you back to this port to witness the arrival of more than 200 wagons and passenger coaches for the central corridor," Dr Mwakyembe said noting that government wants to wean the country from overreliance on road transport.
Dr Mwakyembe said the World Bank funding will not be used to construct berths 13 and 14 which was awarded to Impala Africa earlier this year to jointly develop a new container terminal with Tanzania Ports Authority under public private partnership.
World Bank Country Director for Burundi, Tanzania and Uganda, Phillipe Dongier said the loan plus grant will be made available as soon as possible while TradeMark East Africa's over U$ 50 million funding is immediately available.
The cooperation, which will be delivered through the Dar es Salaam Maritime Gateway Project, includes the provision of financial support to facilitate the deepening and strengthening of berths 1-7, the dredging of the entrance channel and turning basin in the port, the construction of a new berth and roll on - roll off terminal, and improvements in the spatial efficiency and operational effectiveness of the Port of Dar es Salaam.
The provisional cost of the project is 565 million US dollars and will be covered by a mixture of loan, credit, and grant from the coalition of development partners.
"The overall objective of the co-operation is to support the TPA to realize the objectives of the government of Tanzania for the maritime sub-sector, as expressed in the Big Results Now (BRN) Initiative, part of Tanzania Vision 2025, and increase the capacity of the port to 28 million tons by 2020 from current 14.6 million tons handled in 2013/14," the Bank said in a statement.
The latest development comes as South African based Impala Africa is mobilizing funds to construct berths 13 and 14 which Dr Mwakyembe said will not be involved with the World Bank funding. Impala estimates that construction of the two berths to establish a new container terminal at Dar port, will cost between 250 and 300 million US dollars.
Late last month, TPA announced several new tenders on its website including that of construction of berths 13 and 14. "Tanzania Ports Authority (TPA) intends to modernize the Dar es Salaam Port to be able to accommodate larger container vessels through the construction of new container terminal at berths 13 and 14."
In the bids invitation, TPA has set a Tuesday, September 23, 2014 as the deadline for the submission of tender documents. "TPA now invites Expression of Interest (EoI) from eligible bidders to indicate their interest in developing and operating the terminal.
Interested developers should provide information demonstrating that they have the required capacity, qualifications, and relevant experience to design, build and operate port facilities," it reads in part.
Source : allafrica.com