M a r k e t N e w s
Solar power taking center stage in the midst of SA energy crisis
Posted on : Tuesday, 16th September 2014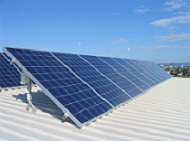 With corporate and industrial energy management on the rise in South Africa, PV is set to play a huge part in the movement towards energy efficiency.
Trina Solar Limited, a global leader in photovoltaic modules, solutions, and services, has entered the South African market at an opportune time, with the sun-drenched country in the midst of an ongoing energy crisis. With unreliable energy supplies costing the economy billions, inconveniencing businesses and consumers alike, the time is ripe for alternative solutions such as solar power to shed some light on this dire situation.
"South Africa's power supply has been under enormous strain for decades, and the recent spate of rolling blackouts due to incapacity has again turned attention to the energy crisis here," says Ben Hill, Head of Europe and Africa for Trina Solar. "The idea of relying on non-renewable energies has quickly become moot, with South Africa's dependence on coal being disturbed by many factors, one of which is the rainy season, even further highlighting its unpredictability," continues Hill. "Not to mention the negative environmental effects of using coal to produce the level of electricity required, even in Johannesburg alone."
Confidence in solar energy as an alternative has been bolstered by a number of successful projects and applications, making it a popular choice for industrial, commercial and even residential use. "While many flocked towards generators as an ideal power solution, particularly during the 2008 grid collapse, the sharp increase in fuel prices has also made them a very costly and unpredictable alternative," says Hill. "Solar power on the other hand is gaining a lot of attention in the market for its cleaner and greener positioning, as well as its clear cost effectiveness."
When it comes to Hill's predictions for the local industry, he believes that factors such as financing programmes will play a big role in ensuring the market continues to grow. "For example The Eskom IDM programme really got the solar commercial rooftop market buzzing in South Africa. We have since seen the commissioning of a number of projects which were previously unable to launch and expect to see even more emerge in the near future," says Hill.
Hill advises companies and individuals to carefully consider their options before choosing a route. "Each company or building has its own complexities in terms of electricity needs and consumption. PV offers unrivalled benefits to large companies through a variety of application options, and poses the ideal respite from unreliability of the massive strain on the existing Eskom power grid. We believe that seeing PV working well for companies and residents will pave the way for even more investment, not only benefitting them but also the economy at large."
Trina Solar Limited (NYSE:TSL) is a global leader in photovoltaic modules, solutions and services. Founded in 1997 as a PV system integrator, Trina Solar today drives smart energy together with installers, distributors, utilities and developers worldwide. The company's industry-shaping position is based on innovation excellence, superior product quality, vertically
Source : www.constructionreviewonline.com