M a r k e t N e w s
Algeria postpones oil and gas bids to accommodate foreign companies
Posted on : Monday, 15th September 2014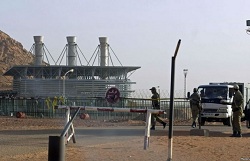 The government of Algeria has confirmed postponement of the oil and gas bids for its plants till end of September this year.
This comes after the government submitted to the request by international energy companies to delay the process further, to allow some foreign more time to assess the potential of all the fields.
ALNAFT, an energy agency that is handling bids said earlier this year June that the delay would be effected until September 4.
The agency also said that the Algeria oil and gas bids would be opened on September 30, and the contracts would be signed on October 30.
Algeria oil and gas bidding round on energy projects was launched on January this year, with 31 fields on offer and had previously set bids opening for August 6 this year.
Confirming the delay, energy officials said the bidding process has been delayed further in response to a request tabled by energy partners.
Source : african minning brief