M a r k e t N e w s
Ethiopia: New UK Company Acquires Oil Exploration Blocks in Ogaden
Posted on : Monday, 15th September 2014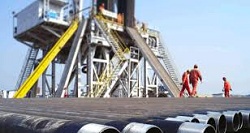 A new UK-based company, Delonex Energy Limited, two weeks ago acquired oil exploration blocks in the Ogaden basin, in eastern Ethiopia.
Delonex Energy is an oil and gas exploration company focused on sub-Saharan Africa. In a statement issued on August 25, Delenox Energy said that the Ethiopian Ministry of Mines had awarded it an exploration license in the Ogaden basin.
The license area covers blocks 18, 19, and 21, located in the Abred-Ferfer area, with a total area of 29,865 sq km. The license covers an initial exploration period of three years with a provision for two extensions of two years each.
The exploration areas were held by Pexco Explorations (East Africa), a Malaysian oil and gas company. Pexco's exploration license was terminated in July 2013. Pexco asked the Ethiopian Ministry of Mines to renew its license in an application letter submitted to the ministry in October 2013. The ministry was reluctant to renew Pexco's exploration license. Instead the ministry awarded the exploration blocks to Delonex Energy.
Delonex Energy said it was leveraging its technical expertise, proven project execution skills and strong balance sheet to fast track the exploration and development of hydrocarbons for the benefit of host nations.
Rahul Dhir, CEO of Delonex Energy, commented, "We thank the Government of Ethiopia for awarding us an exploration license in the Abred-Ferfer area. We have designed a comprehensive exploration program leveraging best-in-class technology, to test the oil and gas potential in the region. We will work closely with the Ethiopian government and local communities to ensure this work program is implemented rapidly and in line with highest standards of Environmental, Social and Corporate Governance."
Delonex Energy was established in 2013 with an investment capital of USD 600 dollars led by Warburg Pincus, a renowned global private equity firm based in New York, and the IFC, a member of the World Bank Group. Delonex energy is headquartered in London, with subsidiaries in UK, India and Kenya.
IFC, the investment arm of the World Bank Group, last year provided Delonex Energy 60 million dollars in equity finance to fund the company's oil and gas exploration in East and Central Africa. IFC believes that the identification and development of local sources of energy has the potential to support more competitive downstream industries and offset the high cost of imported fuels in the region.
IFC's investment is part of a 600 million equity line to be provided by the company's investors led by Warburg Pincus, a global private equity firm focused on growth investing. According to IFC, its investment will be used to fund start-up costs, exploration, appraisal, acquisition and early development of oil and gas assets. IFC said it will also work closely with Delonex to implement best in class environment and social management practices in its exploration and development work.
This is for the first time when IFC backs an oil and gas exploration project in Ethiopia. Currently, New Age, and South West Energy are prospecting for oil and gas in the Ogaden basin. Africa Oil, Genel Energy and East Explorations have working interests in some concessions. Last November the Ministry of Mines granted the Calub and Hilala gas fields and eight exploration blocks in the Ogaden to a Chinese company, GCL Poly.
Source : allafrica.com