M a r k e t N e w s
30 Swedish style villas for Kisumu s Riat Hill
Posted on : Thursday, 11th September 2014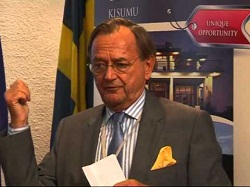 With an initial budget of over a billion shillings, the development of 30 Swedish style villas on 8.5 acres is now underway after the project launch at the Swedish Ambassador's residence in Nairobi last week.
The project is the brainchild of Fred Andersson, the Swedish entrepreneur who has more than 40 years working with various multinationals. In Kenya, he is known for establishing the coastal lodge Kinondo Kwetu, Kinondo Kwetu Trust Fund, and Oriflame in East Africa. "Riat Hills is becoming the preferred destination for high end real estate developments in Kisumu. We want to be part of the projected capital appreciation similar to that which was witnessed in the city over the last decade," said Andersson.
Ideal
Speaking during the function, CORD leader Raila Odinga said the entry of such big developments in Kisumu is in line with the ideals of devolution. He said it was a pity that Kisumu lacks a 5-Star hotel that can accommodate high profile guests or heads of state. "It is sad that 60 per cent of Kenya's GDP is still concentrated in Nairobi. That is why our young people always head to Nairobi. This project will help in turning back that tide since Kisumu is one of the country's economic zones," he said.
The estate has the former Prime Minister as its next door neighbour with his new mansion on Riat Hills.
Kisumu's Deputy Governor Ruth Odinga said the town's master plan that is being developed in conjunction with the Dutch government will give more opportunities to real estate developers since infrastructure is a major factor in such developments.
Outlook
"We note that Kisumu is perhaps the only city in the world with its back to such a lake. However, current developments in places such as Riat Hills are changing such an outlook as they take advantage of the lake for aesthetic beauty," she said. The four bedroom villas will command an excellent view of Lake Victoria, Kisumu City and Kisumu International Airport. They will be retailing for between Sh38.5 and 48.5 million.
Source : in2eastafrica.net