M a r k e t N e w s
Arab Contractors seals new housing contract with Algeria
Posted on : Thursday, 11th September 2014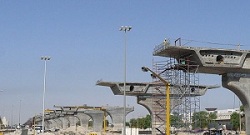 Arab Contractors Company (AC), Egypt's leading Construction Company is set to sign a new contract for implementation of various housing projects in Algeria this month.
The contract is to be signed this month between the Government of Algeria and the company, according to the Chairman of Arab Contractors Company (AC), Mr. Mohsen Salah.
The signing of the awarding of the contract to the Arab Contractors Company (AC) is expected to boost Arab Contractors' business size in Algeria by double digits.
AC is currently executing residential projects (around 6.000 housing units) worth of US$240 million in the Algerian capital alongside the neighbouring cities.
AC has also won contracts involving assisting the Algerian government in establishing 42 industrial zones, at total cost of US$58 million. This is after the two parties signed a protocol on cooperation with the Algerian ministries of Industrial Development and Investment.
Source : constructionreviewonline.com