M a r k e t N e w s
Kenya to adopt e-agriculture services
Posted on : Wednesday, 30th July 2014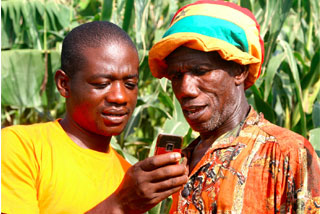 Kenya's ministry of Agriculture is pushing for the implementation of e-agriculture extension services to enable farmers in rural areas access information on modern production methods and improve productivity as Agriculture remains the most important economic activity in Kenya.

The Permanent Secretary in the ministry, Dr Romano Kiome said yesterday that plans were underway to establish information desks in all districts across the country as a way of improving information flow.

He said the move would be followed by establishing more information desks at divisional levels.

"It is our aspiration that we achieve e-agriculture extension services soon enough to bridge the information gap and compliment the work of information desks that we are establishing in our districts," said Dr Kiome.He also stated that Agricultural Training Centre's contribute to increased productivity of smallholder farmers through training and capacity building. This is why the Ministry of Agriculture has been revamping and strengthening the Agricultural training institutions for effectiveness, efficiency and sustainable service delivery.

The Permanent Secretary who represented Agriculture minister Kipruto arap Kirwa said plans were underway to utilize any available mode of communication including short messages on mobile phones to create awareness among farmers.

He said different sectors of the economy including commerce had taken significant strides in the information world and urged participants at the conference to deliberate on key issues that would ensure that information gaps are bridged in the Agricultural sector.

The IAALD conference has attracted participants from across the world and has representatives from key institutions like universities dealing in agricultural information science, United Nation's Food and Agricultural Organization (FAO), agricultural research institutions, and government bodies. While delivering the key note at The IAALD conference; Professor Andrew Kaniki of Knowledge Management and

Strategy, National Management, South Africa, who challenged participants to come up with a solid African Chapter that would seek local solutions to address African agricultural shortcomings including persistent food shortages.

The theme of this year's conference is "managing agricultural information for sustainable food security and improved livelihoods in Africa" and scheduled to end with an adoption of IAALD Africa Chapter.

The Agriculture, Livestock and Fisheries Cabinet Secretary Mr. Felix Koskei has said the agricultural sector in the country needs a positive transformation. This would have an immediate effect on the economy, He also said that food security affects all sectors and the government focus is on the agriculture." We need to refocus and built on the gains made in the past" he emphasized.

Source : MISC