M a r k e t N e w s
Afrox Secures $13.7m Exxaro Contract For Nitrogen Supply
Posted on : Tuesday, 9th September 2014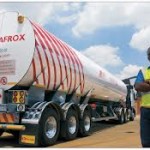 JSE-listed gas and welding firm, African Oxygen (Afrox), on Thursday said it had signed a five-year R147 million ($13.7 million) contract with Exxaro FerroAlloys, a unit of the JSE-listed mining resources firm, Exxaro.
In terms of the deal, Afrox will supply nitrogen to Exxaro FerroAlloys' factory in West Pretoria, South Africa. Afrox will also be injecting money in promoting its distribution pipeline to meet the demand from the Exxaro plant.
"This represents one of the largest nitrogen supply contracts in Afrox," Afrox MD Brett Kimber said. "We are delighted that Exxaro is partnering with Afrox for their expansion plans and this contract underscores the renewed reliability of our plants, now running at 99 percent, nationally, and justifies the R193 million investment in the 200-ton-per-day Pretoria ASU," Kimber continued.
This is the fourth contract that Afrox has won in 2014. Earlier this year, Afrox, won a R65 million ($6 million) five-year contract to supply gas and welding consumables to Steinmüller Africa, a unit of the global group that provides power generation, Bilfinger SE.
It also won a R25 million-a-year ($2.3 million) contract to supply equipment to wholesaler, Matus, which is a unit of Brandcorp, a Johannesburg-based industrial tools distributor.
Afrox also signed a five-year R55 million ($5.2 million) contract to supply liquefied petroleum gas (LPG) to Sun International, a well-known South African domiciled hotel chain. Afrox makes its gases and other products on 41 different sites across southern Africa.
It employs more than 3000 people and has a national network of distributors and branded Gas & Gear centres. Its National Customer Service Centre receives more than 70,000 calls, 8,000 faxes and 20,000 e-mails a month.
Source : www.ventures-africa.com