M a r k e t N e w s
IFC/World Bank Report : 4 million Kenyans projected to have clean off-lighting by 2015
Posted on : Tuesday, 29th July 2014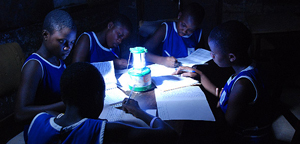 Lighting Africa will release the findings of the Lighting Africa Market Trends Report – Overview of the Off-Grid Lighting Market in Africa. In Kenya, an estimated 30 million still live without electricity and rely mostly on kerosene for lighting. Given the current market growth of between 94 – 115% for off-grid lighting products, up to four million Kenyans could have access to clean, safe lighting by 2015. The report provides a snapshot and projects trends in the off-grid lighting market in Africa.

Representatives from Lighting Africa, KEREA and an off-grid lighting distributor will attend the launch and explain why clean, off-grid lamps (mostly solar) are an immediate, economical and efficient solution for African households and small businesses which are not yet connected to the grid.

Date: August 27, 2013 at 10:00 AM

Venue: IFC

CBA Building 4th Floor, Mara/Ragati Road, Upper Hill Nairobi, Kenya

Speakers:

• Mr. Charles Muchunku, Chairman, KEREA

• Ms. Cindy Kerr, Marketing Director, SunnyMoney

• M. Itotia Njagi, Lighing Africa Program Manager, IFC

Lighting Africa, a joint IFC and World Bank program, seeks to accelerate the development of commercial off-grid lighting markets in Sub-Saharan Africa as part of the World Bank Group's wider efforts to improve access to energy. Lighting Africa is mobilizing the private sector to build sustainable markets that provide affordable, modern off-grid lighting to communities across Africa that are not on the electricity grid. The program and its partners have brought cleaner, safer, and better lighting to close to 7 million people and are working to increase energy access, providing better lighting to 250 million people by 2030.
Source : ehabari.com