M a r k e t N e w s
Over 20 Automakers To Set Up Local Assembly Plants In Nigeria
Posted on : Monday, 8th September 2014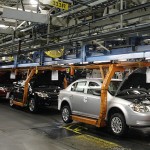 VENTURES AFRICA – The fruits of Nigeria's Automotive policy continues to grow as the country's National Automotive Council (NAC) on the implementation revealed that 21 Auto companies have signed commitments with technical partners to set up local assembly operations.
The report gave the product lines as; Five Cars and Sport Utility Vehicles (SUVs), six mini-buses, four buses, four pickup trucks, and eight trucks.
The report states that the companies are at varying levels of setting up their assembly operations while existing assembly plants, such as Peugeot Automobiles of Nigeria (PAN), Innoson Vehicle Manufacturers and VON Nigeria have been further boosted by the policy.
Nigeria's new Automotive Policy pushes for the local production of vehicles as a means to boost direct investment in the country and reduce cost of vehicles. In July, indigenous vehicle producer – Innoson Motors said its locally manufactured cars were to be rolled out in the market soon. In August, Nigeria based multinational conglomerate, Stallion Group, announced the roll out of its first made-in-Nigeria Hyundai vehicles manufactured and assembled locally.
To increase the attractiveness of local production and assembling, Automakers with local assembly plants pay zero duty when importing Completely Knocked Down (CKD) parts, while the first type of semi-CKD attracts 5 per cent duty; and the second grade – 10 percent.
Source : www.ventures-africa.com