M a r k e t N e w s
Hyundai Targets Greater South African Market Share With New Plant
Posted on : Monday, 8th September 2014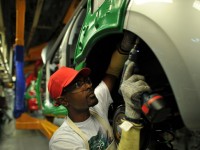 VENTURES AFRICA – South Korea's Hyundai Motor Company, through its subsidiary, Hyundai Automotive South Africa has opened a new plant in Benoni, Guateng, as it looks to consolidate its position in a very competitive industry.
The automobile company is competing with the likes of General Motors and Toyota for a share of the country's automobile market whose exports rose 8.2 percent to R102.7 billion ($9.5 billion) in 2013.
Director of Commercial Vehicles at Hyundai Investment, Wade Griffin said the new is was developed to strengthen its commercial market growth and revitalise its investment in Africa's second largest economy.
"This investment will also help to improve local skills and create jobs in an economy that is in dire need of such opportunities," he added.
Hyundai Automotive SA has already provided some 3,200 potential jobs through the Benoni plant and hopes to create even more. The automotive manufacturer also deployed trained engineers from its parent company to train local staffs on the best industry practices.
The plant has already produced its first set of trucks and will see it assemble approximately 5,000 vehicles a year, 20 percent of which will be exported to other Southern African nations like Namibia and Botswana.
In the future, it hopes to export vehicles from to other Sub-Saharan countries.
The Deputy Director General responsible for Industrial Policy Development at the Department of Trade and Industry, Garth Strachan said the new Hyundai Automotive SA plant in Benoni will contribute largely to the South Africa's economy.
According to Garth, it is expected also to reduce the country's dependence on foreign production of automobile products and boost local capacity.
Source : www.ventures-africa.com