M a r k e t N e w s
German automotive firm eyes East Africa market
Posted on : Saturday, 6th September 2014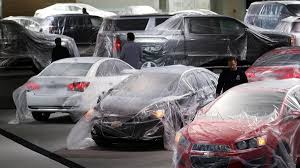 German automotive firm Bosch on Thursday announced it has entered the East African market.
The firm's MD of Southern Africa Steffen Hoffman told journalists in Nairobi that it will invest over 250,000 Euros in their business venture in Kenya.
"We want to tap into the motor industry that has been growing rapidly in the past decade as a result of the growing middle class, " Hoffman said during the launch.
"Our entry into the East African market is an important milestone for the country and reflects the strategic importance for the region," Hoffman said. Industry estimates that new vehicle sales in Kenya grew by 13 percent in 2013 to reach 14,500 units.
"We will leverage on Kenya's strategic location to serve the greater east African region," he said. The MD said that his firm will initially focus on the automotive, power tools and security sectors.
"Our aim is to work with network of independent workshops that are small enough to offer real value," Hoffman said. The German firm is active in the automotive, industrial, energy technology and consumer goods sectors.
Bosch Board Member Uwe Raschke said that his firm will bring innovative products to the region. "We plan to introduce at least 100 new power tools onto the market," Raschke said. Bosch Africa's headquarters are in South Africa.
German Ambassador to Kenya Adreas Peschke said that commercial ties between the two countries have been on the rise.
"There is also growing interest among German firms in investing in east Africa. We will support the company to expand its operations in the region," Peschke.
Source : www.m.news24.com