M a r k e t N e w s
South Africa: Gearbox oil launched
Posted on : Saturday, 6th September 2014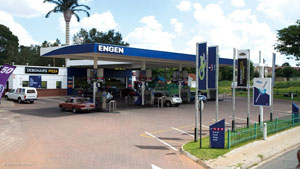 Petroleum products refining company Engen announced in July that it had launched its Gengear XEP-series indus- trial gearbox oils for high performance under pressure applications onto the local market.
After the recent introduction of the energy-saving hydraulic fluid Hydrokin ESF-series at customer events in Cape Town, Port Elizabeth, Durban and Johannesburg, Gengear XEP customer introductions will be part of a second series of roadshows in other areas of South Africa, including Bloemfontein, where this new gear oil, together with Hydrokin ESF-series and greases, is being promoted to bring customers up to date with new-technology lubricants.
Engen Lubricants industrial product engineer Tony Kukard says mining, transportation and other heavy industries can benefit from using Gengear XEP, which is a heavy-duty gear oil that offers high-performance under high temperatures and loads.
"Modern gearboxes are smaller and designed with higher power density, smaller sumps and higher load capacity, putting enormous pressure on the lubricant," he says, adding that modern gear oils must be formulated with higher-quality components designed to excel under challenging conditions.
The Gengear XEP range has been developed using the latest technology so that it meets a range of complex demands and features, such as all major industrial gear oil specifications and carrying the multinational engineering and electronics conglomerate Siemens' approval for use in the company's Flender-series gearboxes.
The lubricant also incorporates the latest technology additive system, providing clean gear performance, enhanced protection against micropitting wear, strong rust and corrosion protection, enhanced oxidation stability for long oil life and resistance to foaming.
Further, the Gengear XEP prolongs bearing life and contains friction modifiers for reduced power consumption and lower bulk oil tempera-tures, and is compatible with seal elastomers to prevent leakage and exclude contaminants.
In particular, Gengear XEP's approval by major manufacturer Siemens should be heartening to customers, says Kukard. "The design evolution of modern gearboxes, coupled with the increasing demand for reliability, means the lubricant is an integral element of overall gearbox design.
"A new generation of high-performance oils is demanded for this requirement. When we assess oils, we do not just consider lubricating perfor-mance such as wear prevention and corrosion protection, but also compatibility between the oil and any part of the gearbox it touches. The Siemens lubricant specification includes testing for elastomer, sealant and paint compatibility, in addition to wear, micropitting and scuffing resistance."
Gengear XEP grades are recommended for all industrial helical and spur-enclosed gear sets with circulation or splash lubrication systems. It can also be used in moderately loaded worm- type gear sets.
Source : www.engineeringnews.co.za