M a r k e t N e w s
South Africa: Diesel vehicle sales push fuel development
Posted on : Saturday, 6th September 2014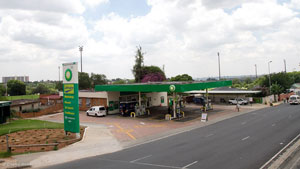 Increasing local demand for diesel vehicles is pushing development of diesel fuels to become more environment friendly while increasing engine power, reports petroleum industry company BP.
South African diesel-vehicle drivers will be able to benefit from BP's latest-generation diesel fuel, which was showcased in February at Johannesburg-based vehicle test track facility Gerotek.
Speaking at the briefing, BP global head of diesel product development Dr Graham Ketley said the company's recently improved fuel came in response to a significant increase in the local demand for diesel-vehicles.
He added that South African diesel-vehicle sales had shown positive growth over the past few years. "BP Ultimate Diesel, available in 50 parts per million (ppm) and 500 ppm sulphur, offers this growing group of diesel drivers better mileage, improved engine performance and lower carbon dioxide (CO2) emissions."
BP takes its role as an energy provider seriously, investing heavily in fuels research and development on a worldwide scale. The company also employs separate teams that deal with petrol and diesel, as these are two vastly different fuel technologies, which require different skills sets.
"I can assure that BP's latest diesel formulation – as is the case with all our fuels – was put through its paces," said Ketley, adding that a typical development process involved extensive testing in the laboratory, in engines and in vehicles, resulting in the winning formulation being identified and defined through robust and extensive performance testing.
In the development of BP Ultimate's latest-generation diesel, the company tested the fuel on a range of current and new vehicle technologies, from passenger cars to light and heavy commercial vehicles, to ensure that it provided the market with the best available diesel fuel technology for current and future engines.
Performance Fuel
BP Ultimate Diesel is a premium, high-performance diesel fuel and independent testing has shown it can deliver benefits in four key areas.
The fuel has superior engine-cleaning properties and is formulated with more than ten times the cleaning strength of ordinary diesel. Greater fuel efficiency is also achieved owing to the fuel burning more smoothly and completely, compared with ordinary fuels, which subsequently releases energy more efficiently, making it less harmful to the environment. BP's Ultimate Diesel cuts CO2 emissions by up to 3.5%.
Increased protection is enabled through the fuel's advanced formula, which helps to protect fuel system components.
Further, engine performance is increased by up to 8% while acceleration can be improved by up to 6% using BP's latest diesel fuel.
BP South Africa technical manager Peter Cock is confident that local diesel-using drivers will welcome the improved diesel fuel, adding that he is pleased to be able to make this product available to South African motorists.
The latest-generation BP Ultimate Diesel is compatible with all diesel engines in passenger cars and heavy vehicles, as well as in old and new engine technologies, with its properties exceeding the industry's toughest specifications.
"People who drive light commercial vehicles and suburban utility vehicles fill up more often and are heavy diesel users. BP Ultimate Diesel will give drivers improved fuel economy, compared with ordinary diesel fuel," he says.
BP South Africa remains committed to product innovation and providing the motoring public with the best choice in premium fuels, concludes Cock.
Source : www.engineeringnews.co.za