M a r k e t N e w s
New commercial vehicle assembly plant in South Africa
Posted on : Saturday, 6th September 2014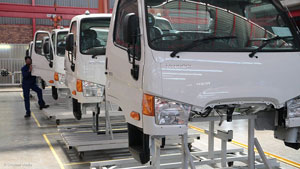 Through its new commercial vehicle assembly plant, in Benoni, east of Johannesburg, automotive company Hyundai Automotive South Africa (HASA) was increasing its contribution to the local economy, CEO Alan Ross said on Thursday at the plant's official opening.
The 32 000 m2 semi-knocked-down (SKD) assembly plant, which had been established through a R110-million capital investment from HASA parent company Associated Motor Holdings, started producing its first trucks in July this year, with an initial aim to produce between 50 and 100 Hyundai HD65 and HD72 trucks a month.
"We realised the need to contribute differently to the South African economy," Ross said, explaining that HASA previously used to import these vehicles to be distributed locally.
He added that the company was also in negotiations with Hyundai, in Korea, to, in future, assemble Hyundai H100 vehicles at this plant.
Hyundai would aim to assemble 4 200 of these vehicles a month.
At this stage, most of the trucks produced at the plant would be distributed in the South African market; however, HASA was investigating options to export to other markets in sub-Saharan Africa.
Of the vehicles assembled at the Benoni plant, 20% would be exported to neighbouring Southern African countries, such as Botswana and Namibia.
Also speaking at the opening, HASA commercial vehicles director Wade Griffin said the plant employed about 30 people, with the company aiming to expand this to 60 as the plant ramped up to full capacity.
"[Further], the local production of HD65 and HD72 trucks will give us a lot of momentum to increase our present 3% share in the medium commercial vehicle market," he noted.
He added that an increase in the local content of the vehicles assmebled would also result in further savings, a more competitive business model and the creation of more jobs in the local economy.
"We are obviously at an early stage in the development of the local operation, but we are already examining the expansion of locally produced parts for our assembly line," Griffin stated.
Meanwhile, also speaking at the event, Department of Trade and Industry (DTI) deputy director-general Garth Strachan commented that the launch of the assembly plant came at an opportune time as foreign direct investment across a range of manufacturing sectors was significantly up.
"In the automotive sector, our industrial policy instruments have supported investment of R16-billion in the recent period with further investment in the pipeline," he said.
He noted that the DTI was confident that the new plant would provide HASA with a good base from which to begin its manufacturing journey in Southern Africa.
"We are particularly encouraged by the localisation effort that has already been put in place in the form of the first-tier supply bodybuilding plant [at the facility], operated by Taylormade Truck," Strachan said.
He added that government would provide the necessary support to ensure that this investment was sustainable beyond its present model of SKD, moving to complete knockdown (CKD) and, in time, to strong supplier development and localisation.
"In short, the DTI will continue to work closely with HASA towards achieving all the necessary milestones towards full CKD operation and to enable [the company] to reach much greater levels of localisation," he said.
Source : www.engineeringnews.co.za