M a r k e t N e w s
Namibia: GM Sales Gather Speed in Africa
Posted on : Saturday, 6th September 2014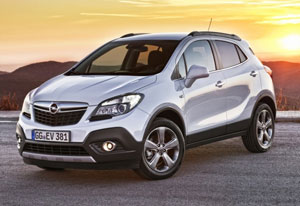 General Motors South Africa (GMSA) confirmed that the new Opel Adam hatchback and Mokka SUV will arrive locally in 2015. The new models form part of Opel's global product offensive which will see 27 new vehicles and 17 engines launched by 2018, and reaching a growing African market.
Mario Spangenberg, president of GM Africa, reports that the company has invested over R1.7-billion in its Africa operations in the past few years. He said the investment was geared at strengthening the company's manufacturing base in North Africa through its Egypt operation and in Sub-Saharan Africa through its South Africa and Kenya operations. General Motors reports 17 new facilities and show rooms in Angola, Madagascar, Mozambique, Zimbabwe, Nigeria, Algeria (4) Egypt (4) and Ghana in the last 18 months. Spangenberg adds: "Later in 2014, new dealers will open in Uganda and Mauritius." According to GMSA, its 38 000m² Parts Distribution Centre in Port Elizabeth, is "now fully geared up to provide the required parts and service support to distributors on the continent". Spangenberg said despite the decline in sales in the automotive industry in Africa during the first seven months of 2014, GM sales continued to grow: "Within our Africa Operations we sold around 107 000 vehicles during the first seven months of 2014. Overall our sales in Africa were up almost 7% versus an industry decline of 4.9%. "We have achieved tremendous success in some key markets during this period versus the same period last year. "Over the next 12 months, we will be launching 10 new vehicles into our Africa markets. Of these new vehicles, seven will be launched in the South African market." (Wheels24)
Opel's new Mokka SUV (pictured here) and Adam hatchback will arrive in 2015. The new Opels form part of a seven model assault from GMSA for Africa.
Source : www.allafrica.com