M a r k e t N e w s
Tanzania to construct 50, 000 houses in a US$ 48 m real estate project
Posted on : Saturday, 6th September 2014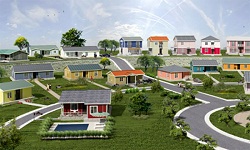 A total of USD 48.24 will be used in the first phase construction of houses in Tanzania to provide shelter for public servants. The real estate project will be funded by the government of Tanzania.
The construction of the houses will be done in collaboration with a real estate developer, Watumishi Housing Company (WHC). WHC also manages overseas real estate investment as a fund management company through the Real Estate Investment Trusts (REITs).
The first phase of the real estate project will be set up on over 200 acres of land across 12 regions. The first phase of construction of the houses will start in October this year. The real estate project will involve setting up of 1, 500 house units in the first phase. These will be constructed in Dar es Salaam, the Coast Region, Dodoma, Morogoro, Ruvuma, Mtwara, Mbeya, Kigoma, Mwanza, Shinyanga, Arusha and Tanga.
Fred Msemwa, the CEO at WHC termed the real estate project as "the largest ever real estate project to be implemented in East and Central Africa." It will see reduction of housing backlog totaling to 3 million housing units and with an annual growth rate of 200,000 units.
The public servants will be sold the houses and will not be required to give deposit. Reduced rate mortgages with a repayment plan of 25 years will also be available for those wishing to purchase the units.
Source : constructionreviewonline.com