M a r k e t N e w s
Qatar investors to enter Kenya real estate market
Posted on : Saturday, 6th September 2014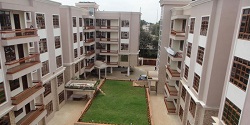 Qatar is seeking to enter into the Kenya real estate market. A delegation of Qatari Businessmen Association (QBA) has already visited the Kenya's Minister of Foreign Affairs and International Trade, Amina Mohamed in a bid to improve ties between the two countries.
The Minister has stated that the visit would open more business opportunities for Qatar. The delegation visiting the minister was led by Dr.Khalid Bin Thani. Kenyan Ambassador in Qatar Galma Mukhe Boru was also part of the delegation.
At an event organized by the Kenya National Chamber of Commerce and Industries (KNCCI) in Nairobi – Kenya, Thani said they were in the country to concentrate on (issues relating to) "real estate targeting the middle class", health, communication and finance. The report comes amidst news that the real estate market is experiencing a boost in Kenya and other countries in Africa.
The news comes amidst reports that the country was experiencing a rise in demand for housing, with a need for 200, 000 housing units annually against a supply of 50, 000 units per year. Diminishing land resources in the country is also worsening the situation, with the country having a reported shortage of 2 million of housing units.
A director at Shelter Afrique, a pan-African housing financier has advised that high density projects such as apartments should be the way to go for developers in order to establish between 100 and 150 units per hectare. This will mean that more households will be accommodated in a unit of land.
Thani already owns and heads real estate firms and companies in other sector: Ezdan Real Estate Co and Medicare Group. Islamic Holding Group, Qatar International Islamic Bank, Mackeen Holding, and Zenon Trading & Contracting Co. are also owned and headed by Thani.
The country is also experiencing a situation where other rich personalities, including Sir Richard Branson, Mukesh Ambani and Flavio Briatore, are entering the country. He is also the second deputy of Qatar Businessmen Association (QBA) and a sheikh. Kenya real estate market is experiencing a boom, in a situation that could see rising demand of construction materials as many people enter the market.
Source : constructionreviewonline.com